Verifone VX610
Verifone VX610
(GPRS)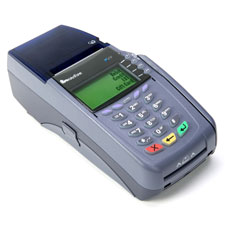 $695.98

& Ships Free!
No account or service required!
Availability:
Out of Stock. Permanent or unknown future availability!
The Verifone VX 610 is a highly advanced wireless terminal from Verifone. It has an easy to use ATM style interface, and it comes in a compact portable design made to go anywhere. The VX 610 is offered in three versions, cellular GPRS, cellular CDMA, and wireless 802.11b (WiFi).
Please ensure compatibility with your processor before ordering the any version of the VX 610. Not all versions of this terminal are compatible with all processors.
The VX 610 comes standard with a drop-in thermal printer, magnetic card reader, smart card reader, and an internal PINpad for PIN debit transactions. A lithium ion battery can be purchased for all day use. High memory is included for businesses who use advanced processing applications.