March 16th, 2016 by MSI Newsletters
What do you get for your Statement Fee ??
Filed in: Monthly Newsletters |
You have probably noticed one to two little fees on your merchant account statement that would range anywhere from $5.00 to $30.00. This little monthly fee has many names such as account fee, account on file, mailing, processing, statement, internet, access and even just plain monthly fee. All of these pretty much pertain to this charge that is generated from the processing company and can be lumped together as a statement fee. The charge began when merchant accounts first came out back in the 70's and covered the bank's cost of mailing statements and overhead pretty much like the monthly fee for a checking account. Over time this monthly fee still covers the mailing of the statements and has become a profit source for some processors. Most processors charge a statement fee even if the statement is online or emailed to the merchant and some even charge a second fee for the privlege of an online statement.
For most merchants they will get something that looks like this for their money: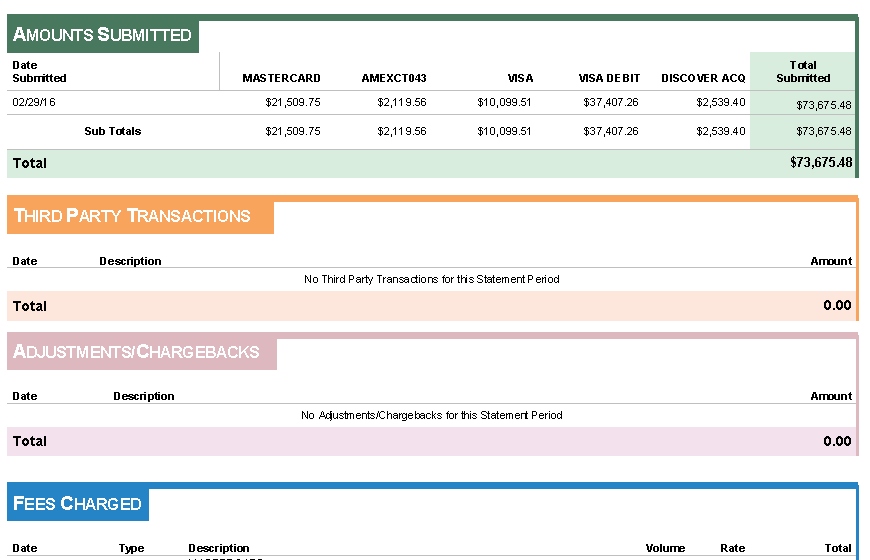 This statement will have your basic information from the previous months. Very much like a bank statement, it will have your monthly volume, broken down by card type and your daily deposits from your credit card processing. Your statement will also have the fees you paid for your credit card processing from the previous month. Hopefully your processor is breaking down your fees down to your discount rate, transaction fee, and any monthly fees associated with your merchant account. So basically this statement is a receipt for the fees that you have paid for processing credit cards.
At The Merchant Store, our statement fee covers a lot more than just the mailing of a standard statement. Our fee covers an Online service called Access One. This is an Online portal that is included with your merchant account to give you the abilities that up to now were only available for an additional fee or for very large companies and nationwide chains.
First, when you log in you will have a dashboard that gives you a snapshot of the the current batch, month to date and year to date processing. The dashboard gives you a 13 month rolling history of your processing. This information is broken down by card type, gross sales, returns, and net sales after any returns or charge backs.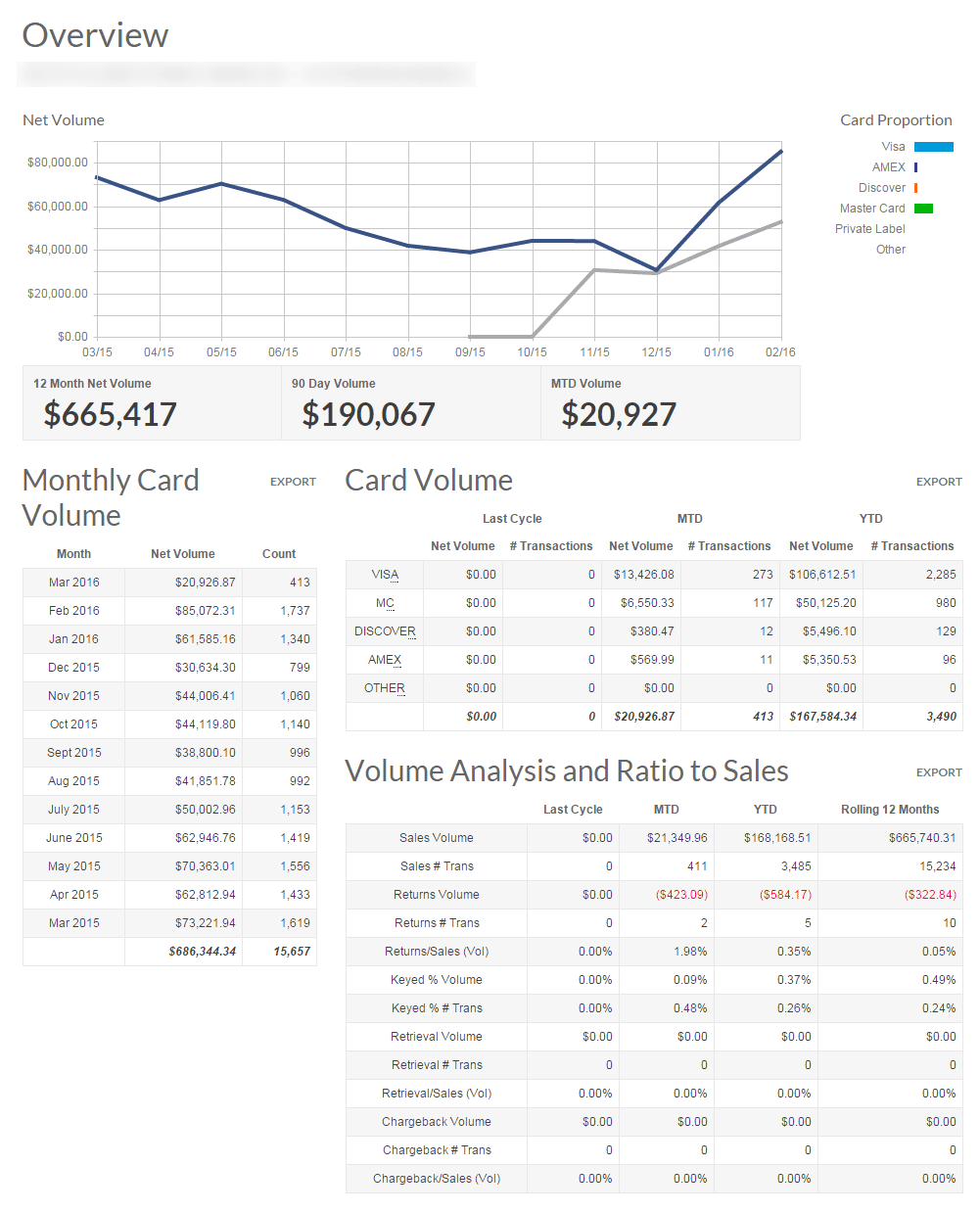 Not only do you have access to your current statement but you will have every statement you have ever had available to you any time that you need it.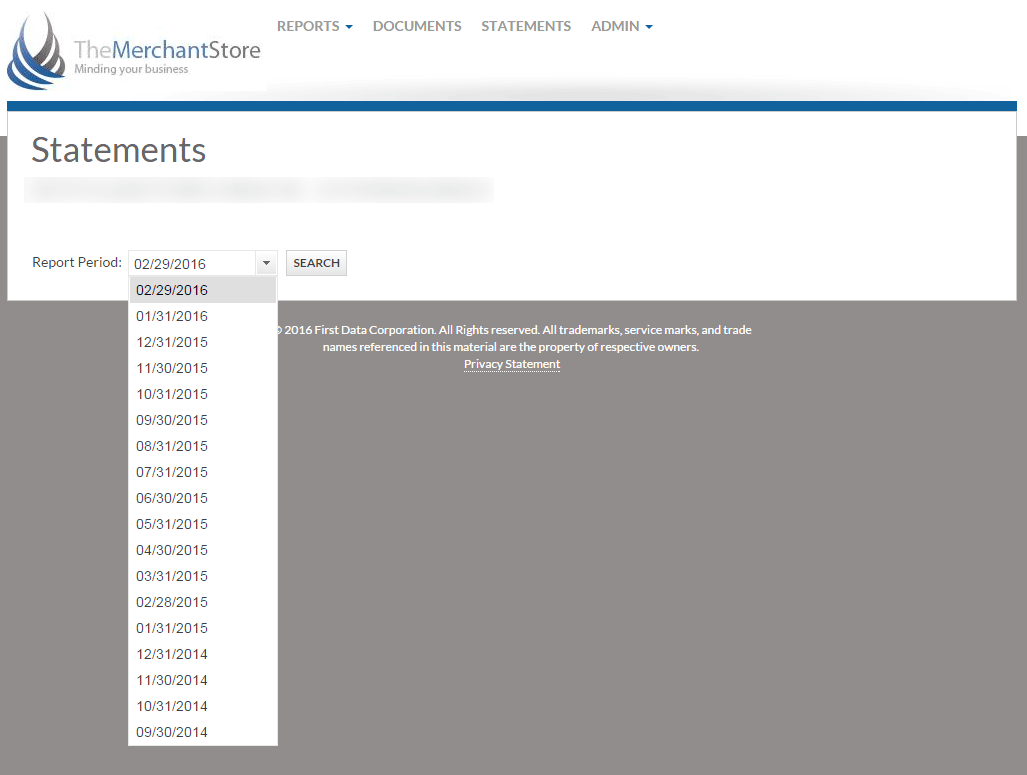 Access One gives our merchants access to the following information and reports: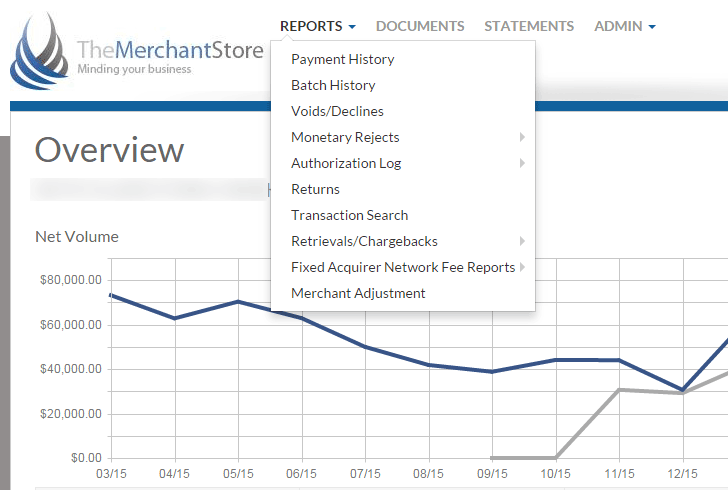 With this system you will be able to see your batches, deposits and all voids/declines or returns. This is a way to double check your returns on a daily basis and make sure they are all approved.
A very cool feature is the transaction search feature where you can find any transaction that ran through your system:

Our Access One system goes way beyond a statement receipt for our merchants. This is a tool you can use to keep abreast of your current processing as well as the past history of your statements, transactions as well as batches and deposits. Access One also enables you to open customer service questions while you are in the system that will be answered in expedited way.
Make sure you have a system working for you, get the Access One system included with your merchant account.