Non-profit Merchant Accounts - NP Share

You get 50% of our income
A unique solution for non-profits:
Non-profit organizations can benefit from our unique credit card processing solution. As non-profit, you're going to get a great rate right from the start, but we're going to give you back 50% of our net income from your credit card processing.
Our services work with most processing software, and if you need to integrate credit card processing into your website, our low cost payment gateway will integrate with your site. Our PCI certified payment gateway has a built in shopping cart allowing you to accept donations or sales in as little as 5 minutes of setup. If you have an existing shopping cart, it can integrate through our advanced API interface. The gateway supports recurring transactions at no additional cost, and has a customer storage vault if you need to keep a customer's card and charge it later.
It gets even better!
Your benefit isn't going to stop only with getting back some of what you pay for processing. When you refer other businesses to us, we'll share any profit from your referrals with you as well. You'll get 50% of our net income from any business you refer to us in addition to 50% of our net income on your processing.

Non-profit merchant account benefits:
50% reimbursement on net income from your processing.
50% reimbursement on net income from your referral's processing.
24 / 7 / 365 support and service.
Free setup (no application or setup fee).
Low cost payment gateway and virtual terminal, or wholesale cost on any processing equipment you need.
Processing Methods:
Your current non-profit software
On your website or through a virtual terminal
Through a credit card terminal
Using PC processing software
Non-profits must be legally registered 501(c)(3) organizations to qualify.
---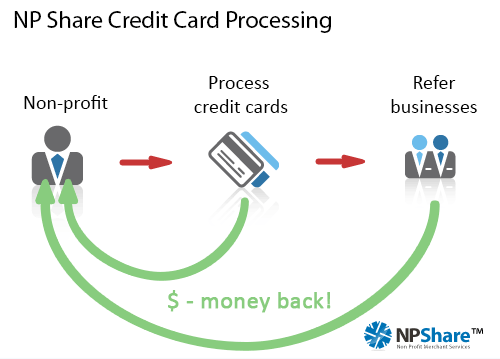 Help us promote the NP Share program by linking to us.

Copy and paste the html of these banners into your website.