Equipment, Shipping, Refund, Return, and Privacy Policies
Our Policies
Equipment we sell
We are a registered reseller of Verifone, Hypercom, Lipman (Nurit), Ingenico, Talento, Magtek, PC Charge, Intuit, Authorize.net, Verisign, Payment Clearing, Way Systems, Commerciant, and Comstar. Every machine we sell is backed by our 30 day no-lemon guarantee and is covered by the manufacturers warranty. All of our equipment is delivered to us from our wholesale suppliers and is the most recent versions of each terminal available, unless otherwise stated. We receive new shipments of terminals, peripherals, and supplies every day. All equipment complies with all current regulations, and we do not sell outdated or illegal equipment.
There is no service obligation for buying credit card processing equipment from us.
We do not sell locked or restricted equipment so you can take a terminal you purchase from us to any provider that supports it. However, some terminals may be proprietary to certain processors. For example, the First Data terminals can only be used on First Data platforms. Other terminals such as Ingenico's require what is called a baseline load. This is a program that must be physically installed before the terminal can be programmed. Baseline loads cannot be done remotely. Baseline loads effectively lock a terminal to a certain processing platform. Typically a merchant can change processing companies but the new company must use the same platform for the terminal to work without being physically programmed with a new baseline.
We do provide merchant services, and have a low price guarantee. New customers are also entitled to a 25% discount on a credit card terminal when they sign up with us. Get started today.
Brand New Equipment
All processing equipment is new unless specifically marked as refurbished.
Refurbished Equipment
Refurbished equipment is used equipment that has been re-manufactured to meet its original specifications. There is no difference in appearance or operation between new and refurbished equipment. All refurbished equipment is still covered under our 30 day no-lemon guarantee and retains the manufacturers warranty from the date of purchase.
Bulk Supplies
Many of the supplies that we stock such as paper, batteries, and ink are purchased in bulk. These often do not come in retail packaging, but are always new and unused unless otherwise described.
Black or Damaged Thermal Paper
Thermal paper is the most common paper used in current credit card terminals. It also will turn black or grey when exposed to heat or friction. This often gives paper rolls the appearance of being damaged or used when it is shipped. If you receive dark paper rolls, try removing the outer layer and usually the rest of the roll is white and usable.
Equipment reselling
We do not have an official reselling program, and we currently do not offer volume discounts, but we welcome purchases from other service providers and outside sales agents. With that being said, we are not a wholesale distributor and may refuse orders that we cannot reasonably fulfill.
Shipping policy:
Our equipment is primarily shipped via UPS. All orders are shipped ground service unless expedited shipping is selected, which can be purchased for an additional fee. Please refer to the chart below for estimated shipping time-frame. We ship orders Monday through Friday, and most orders are shipped within 24 hours of purchasing. If your order is placed by 3:00 PM CST your equipment will most likely be shipped the same day.
$4.99 Shipping to lower 48 states
We offer discount $4.99 Ground shipping on orders shipped to the lower 48 states. Due to increasing costs, this shipping is not available for orders containing multiple cases of paper or extremely heavy orders.
FREE Shipping
We offer promotional free holiday Ground shipping on orders, containing credit card terminals, shipped to the lower 48 states. Due to costs, this shipping is not available for orders containing multiple cases of paper or heavy orders containing multiple terminals.
Shipping time-frame and guarantee
Please note that we cannot guarantee delivery on any particular day or time. We get 99% of orders shipped within 1 business day, most on the same day, but we have no control over delivery after the package is in the carrier's hands. We cannot guarantee a certain delivery date or time as UPS and other carriers cannot guarantee us. Inclement weather and unforeseeable circumstances can cause shipping delays. If you need a package urgently, please take these factors into account when choosing your shipping method.
Please call us at (800) 532.4966 or email us at info@merchantequip.com if you have any questions involving our shipping rates or policy.
Prices are calculated based on the weight, shipping method and zip code that your order will be delivered to. We currently offer Ground, 3 Day, 2nd Day, and Overnight Shipping.
UPS Ground Shipping Time Estimate: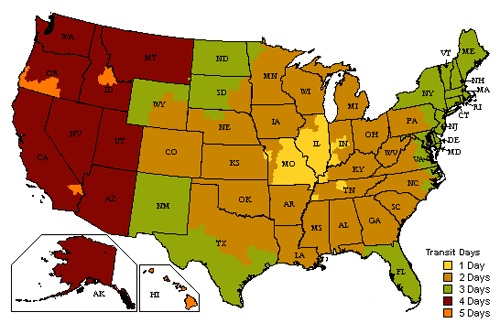 (Delivery time-frame is an estimate and is not guaranteed.)
Refund and return policy
If you need to return equipment due to failure or manufacturers defects, please see defective equipment below.
Returns must be made within 30 days of the invoice date of your purchase. If you return a product to us, we will refund your purchase price, minus shipping charges, and any applicable restocking fees. Non-defective returns are subject to a 20% restocking fee, as we can no longer sell the equipment as new. We will not accept returns on obviously used equipment. You are responsible for the cost of return shipping and handling unless an error was made on our part. All returns must include a Return Merchandise Authorization Number (RMA#). Packages without a RMA# will not be accepted. The RMA# enables us to coordinate your return with the receiving, technical and customer service departments to get the fastest response to your needs. RMA# requests are made by calling (800) 532.4966 or via email at . Returned items must be in original packaging, in as-new condition with the original packing slip, all warranty cards, manuals and accessories. No refunds or exchanges will be made without the original packaging and accessories. We will process your return as quickly as possible, but please allow up to 20 business days for your return to be processed and your card to be credited once your return has arrived. Returns are normally completed much faster than this, but we must verify each unit for completeness and validate its condition before we issue a credit.
Defective Equipment
If your equipment does not operate as designed, contact us immediately. We offer a 30 day no-lemon guarantee that protects you from defective equipment. We will exchange defective equipment for the same equipment at no cost to you. You must contact us within 30 days of the invoice date of your purchase to make a defective equipment claim.
After 30 days you will need to contact the equipment manufacturer for all warranty claims. We will be happy to provide you with manufacturer contact information if you should need it.
Software refund and return policy
Unopened software carries the same return policy as our equipment. We cannot accept returns on software that has been opened or registered as it cannot be re-licensed, or re-sold.
Fraudulent orders and attempts
For all orders attempted or placed through our company we log the IP as well as any and all information submitted to us electronically. We will attempt to investigate and prosecute any order that is deemed fraudulent, and we will report all fraudulent attempts, whether successful or not to the FBI, Secret Service, and other known fraud investigating agencies. We do not tolerate Credit Card Fraud.
Privacy policy
This privacy policy is for The Merchant Equipment Store
Generally you can browse through our website without giving us any information about yourself. We do not collect personally identifying information about any individual site users, except when knowingly provided by such individual.
For example, we collect information to process orders on the site or to qualify the customer for a Merchant Account. This information is used for delivery of such merchandise or services which may involve affiliated 3rd party organizations, shipping and fulfillment companies, banks, and financial institutions. This information is not used by these organizations for marketing or other purposes not related to the delivery of services or merchandise. Information that we collect is not sold or shared with any other organization.
We do log your IP address (the Internet address of your computer) to give us an idea of which part of our website you visit and how long you spend there, but we do not link your IP address to any personal information. Like many commercial websites, we use a standard technology called a "cookie" to collect information about how you use our website, and to track any products that you add to your shopping cart.
When you email us, or use your email in an order or contact form, we will not share it with other companies. We only use them to respond to your inquiry, give you updates on your order, or other relevant correspondence. We don't spam and we will never share your email address or information with any unaffiliated third party agency.
Information we collect is stored securely to prevent data loss by electronic hacking. We do not store any credit card numbers or financially sensitive information.
For any questions concerning our return, refund, shipping, or privacy policies, or to opt out of communications, please contact us by:
email at:
telephone at: (800) 532.4966
or by mail at:
The Merchant Equipment Store
2309 Westrock Dr.
Austin, TX 78704
Phone: (800) 532.4966
Mistakes disclaimer
Our website is updated daily and we are humans, not some big box corporation. We try hard to ensure all information and prices on our website are 100% accurate and up-to-date, but sometimes mistakes do happen. In the event of an error, we reserve the right to cancel, void, refund, and/or credit a purchaser as necessary. We will always inform the purchaser of any such situation before any action is taken.
We also advertise on multiple other website and shopping feed services. Sometimes these sites take several days to update their pricing to match what is on our website. We do not intentionally advertise lower prices on other sites or services. If you encounter this situation, it is likely due to the time it takes for the 3rd party service to update their pricing.