Credit card machine information
Guide to Credit Card Machines
Credit Card Machine Information
There are many different styles and prices of credit card machines in today's industry. The type of credit card machine that a merchant needs is determined by the type of business and style of credit card processing that the merchant is planning on doing. For a history of credit card terminals, take a look at the credit card terminal timeline.
EMV is coming, view all available EMV credit card terminals and processing equipment.
Popular Brands:
The most popular brands of credit card equipment in the US are Verifone, Hypercom, and Lipman.
Most merchants that are planning on keying in their transaction would need a terminal without an attached printer, while merchants who operate a retail type environment would need a credit card machine with an integrated printer. Many mobile businesses would benefit best from a wireless credit card machine, providing that their processing volume supports the high cost of the wireless terminal, and there is sufficient cellular coverage in their area.
Businesses that both swipe their credit cards and key their credit cards in, may benefit from having 2 merchant accounts processing through the same terminal. This may sound more expensive, but is usually a cheaper way to process if the keyed and swiped transaction volumes are about equal. There are several credit card terminals that can handle multiple merchant accounts. These terminals are: Nurit 2085, Nurit 3020, Nurit 3010, Nurit 8000, Omni 3750, Omni 3740, and the Verifone Tranz 380x2. There may be other terminals such as Linkpoint or Thales that can handle multiple merchant accounts but these listed are the most commonly used.
Another reason that a merchant might want a terminal that can handle multiple merchant accounts is their type of business needs several merchant accounts. This is very common for Massage, Hair Styling and similar type businesses. Each stylist or Masseuse can have their own merchant account for their own customers, which will help avoid complicated paperwork at the end of the month.
Types of Credit Card Processing Merchant Accounts

Credit Card Machine Information and Details
Terminals Without Printers:
Credit card terminals without printers are commonly used in mail order or phone in order business where the merchant does not need to issue a paper receipt to his customer at the time of sale. They are also commonly used in a mobile environment where the credit card number is called in to a central location and the number is keyed into the credit card machine, by another person. This option is very effective for mobile businesses such as landscaping, plumbing, locksmiths, electrical contractors etc, who do not want to pay the high price of a wireless credit card machine but still need the ability to process a transaction at the time and place of sale. The printer-less credit card machines are the cheapest processing machines available, ranging in price from $200.00 - $450.00, for a new machine, and $150.00 - $300.00 for a refurbished unit. The most popular terminals in this category are the Verifone Tranz 330 and Verifone Tranz 380. These credit card terminals are an industry standard, and are two of the most common machines in the credit card processing industry.

Purchase credit card terminals.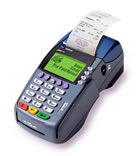 Terminals with Printers:
Credit card machines that include an integrated impact or thermal printer are most common in the retail marketplace. They consist of a single unit that is able to issue a receipt to the customer at the time of the sale as well as process the customers card. They are slightly more expensive that the credit card processing machines that don't have attached printers, but they are still available at a reasonable cost. The price range for a credit card processing machines with a built in printer is around $275 - $900, depending on the model and the options that are needed. Many of these processing machines have built in pinpads to allow the merchant to accept debit cards without purchasing a separate pinpad. These units are the complete all-in-one solution for most credit card processing needs. The most popular terminals and our recommendations for terminals in this category are: the Hypercom T7 Plus, the Nurit 2085, and the Verifone Omni 3200se. These credit card machines are all compact, reliable, easy to use, and all feature a fast built-in thermal printer that eliminates the need to purchase replacement ink cartridges. None of these machines include an internal pinpad, but their upgraded counterparts; the Nurit 2085 Plus, Nurit 8320, and the Omni 3210se have internal pinpad's for debit transactions.
Purchase credit card machines with attached printers.

Wireless credit card machines are the most advanced processing machines available today. Because of their complexity, we have devoted a page strictly to help provide information on wireless terminals. Please click on the wireless terminals title for more information.

Purchase wireless credit card machines.
Purchase Credit Card Machines, Equipment, and Supplies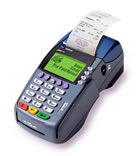 Credit Card Machine Comparison Chart (compare popular terminals)
Credit Card Machine and Merchant Account Resale Programs
Specials
Customer favorites