Gift Card Programs
Electronic Gift Card Programs
Gift Card Program Overview
A gift card program will allow your business to offer gift cards to your customers. A gift card works like a gift certificate, and can be electronically charged and funded through you credit card machine. Your customers can purchase gift cards from you to give away as presents.
Gift cards can be a great marketing medium and help create customer loyalty.
Compatible Terminals and Software Programs:
Verifone: Tranz 330, 380, 460; Omni 3300, 3750.
Lipman (Nurit): Nurit 2085, 2085+, 2090, 3010, 3020, 8320.
Hypercom: T7P, T77, T7 Plus, ICE Terminals.
Thales: Talento.
Verifone Go Software: PC Charge Pro, Express, and Payment Server (v5.7 and higher).
Gift Card programs are tailored to each individual business. Semi and fully customizable cards are available. Please fill out the following form if you would like more information about our gift card programs.
Made to Fit Your Business:
Gift cards can be semi-customized to match the look and feel of your business. There are numerous colors available, and more cards can be ordered when you run out.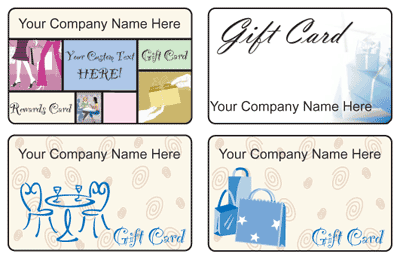 Ready to get started? Apply now »
Features and Benefits
Reasons to add a Gift Card Program Today
Almost 50 million adults purchased gift cards in the last year. 61% spent more than their original amount on the card.
The Polling Company says a recent survey showed 48% of consumers are planning to buy at least one pre-paid card or gift certificate this year and 29% will buy three or more. Of those planning to purchase a pre-paid card or gift certificate, 25% will spend $50 or more while 35% will spend $25-$30 on each card.
According to the findings of a new National Retail Federation (NRF) survey, the inaugural NRF Gift Card Survey, conducted by BIGresearch for NRF, found that 69.9 percent of consumers plan to buy gift cards in the coming year, spending an average of $34.24 per card.
Nearly 50 percent of consumers (48.4%) in an earlier NRF holiday survey said they would like to receive gift cards this year, up from 41.3 percent last year.
Consumers plan to spend $17.24 billion on gift cards during the 2003 holiday season, which would account for nearly 8 percent of all holiday sales. Also, the average person purchasing a gift card will be purchasing more than three cards (3.34), spending a total of $114.44.
Older consumers are spearheading gift card growth. Consumers over age 65 plan to buy 3.90 cards, on average, spending $130.62. Consumers 55-64 will purchase an average of 3.61 cards, spending $134.80.
Most of today's gift cards differ from traditional gift certificates because they are "stored value" cards. When a consumer spends $25 from a $50 gift card, the card automatically updates the balance. This is more efficient than the retailer reissuing another gift certificate to the consumer for the balance.

Due to improved technology, some retailers are able to reissue a lost gift card if consumers have kept the original purchase receipt.
Another convenience factor is that many businesses are able to carry gift cards at their check-out counters because today's gift cards are not active until scanned. Also, many retailers like grocery stores carry a variety of different gift cards at their registers—for movie theaters, coffee shops, and clothing stores.

NRF continues to forecast that gift card sales will increase 5.7 percent this year to $217.4 billion, which would be the largest increase since 1999.
(Statistics provided by The National Retail Federation).