January 10th, 2008 by Jamie Estep
Cool credit card terminals
Filed in: Credit Card Equipment |
Credit card terminals have a history of being about twenty years behind any current technology, and have always been designed for function only.
Here's a few newer terminals that are finally catching up with technology, and style! My personal favorite is the Hypercom M4100, but several of these terminals are amazing.
Verifone VX 670

This the same terminal that Verifone uses for their pay at the table processing. This is a super fast battery operated WiFi terminal that is going to start getting very popular for high-end restaurants.
Verifone VX 810

The VX 810 is a high-end PINpad that is made in a hand-over design. Because of its high price for a PINpad, it's unlikely that the 810 will ever become a mainstream PINpad.
Hypercom M4100

The M4100 is Hypercom's answer to all other wireless terminals. It is made to compete with the ultra-compact terminals from Way Systems, Comstar and Apriva, but is rock solid and ready to use for any size merchant. It's GPRS and WiFi enabled, includes an internal PINpad, and fits in a pocket.
Thales Artema Mobile

Thales terminals are not common in the US, but they are fairly popular in some other countries. The Artema Mobile is a GPRS wireless terminal with a printer and PINpad. It is one of the smallest wireless terminals available that has a printer attached.
Ingenico i7300 – i7910+

Ingenico has been making some very interesting terminals for several years, but most US processors do not support them. The i7*** series terminals come in just about any configuration a business would want, GPRS, WiFi, multi-terminal server, etc. These terminals are very small and have attached printers.
Exadigm XD2000

Exadigm is another brand that is rarely seen in the US. The XD2000 comes with an internal PINpad, smart card reader, and full size printer. It can be configured for dial, Ethernet, WiFi, Bluetooth, GPRS, CDMA, and runs on a very basic Linux operating system. It's slightly larger than some other wireless terminals, but has more features available than any other terminal.
Blue Bamboo H50

The Blue Bamboo H50 is a compact terminal, that is full featured and is relatively inexpensive. This is a newcomer to the processing industry but the price, size and features, make it likely to gain popularity with some mobile businesses.
Way Systems 1581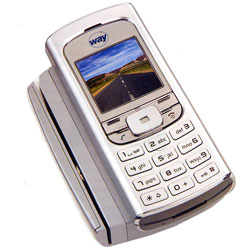 This is the newest terminal from Way Systems and is scheduled to be in operation in the next few months. This appears to be a vast improvement over the functional, but ugly MTT 1551 and 1556, and is still based on a Siemens mobile phone.