April 10th, 2006 by Jamie Estep
How to safely Purchase a Wireless Credit Card Terminal
Filed in: Credit Card Equipment, Merchant Accounts | 8 comments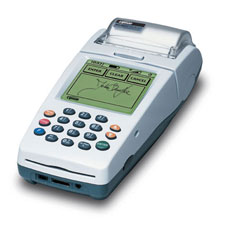 Wireless credit card machines hold the future of credit card processing. Wireless credit card machines offer businesses the ability to process credit and debit card at virtually any location. There are several common pitfalls not found with traditional credit card terminals that a potential buyer can fall into if not careful when looking to purchase a wireless credit card terminal. Over priced equipment, wireless coverage availability, and outdated equipment top the list for the most common problems found when purchasing a wireless credit card machine.
Common Pitfalls
Pitfall – 1, Over Priced Equipment
The most common wireless terminals in use in the US are the Nurit 3010, the Nurit 8000, and the Nurit 8000 GPRS. The manufacturer Lipman, only makes 1 version of each terminal. The price for any of these terminals should fall into the $700 – $900 range for a new terminal. Anything higher and you are being ripped off. No matter what your provider tells you, this is how much you can buy these terminals for. There are no other versions of these terminals, so don't be talked into an overpriced terminal.
Pitfall – 2, Outdated Equipment, Outdated Networks
It is often very easy to find a 'very low' priced wireless credit card terminal on ebay or at other marketplaces. Many of these terminals use outdated processing networks, and what was a wireless terminal, will no longer work for wireless processing. Many Nurit 3010, and Nurit 2090 wireless terminals use a network called the CDPD network. This wireless network is all but abandoned for credit card processing and you will not be able to use this terminal for wireless processing.
Make absolutely sure that the wireless terminal that you are buying is not one made for the CDPD network. If the seller does not know, or will not disclose what network the terminal is programmed for, then do not buy the terminal. In general, if the offer just sounds too good to be true, then it probably is. Also, many merchants that are selling their used terminals may have no idea what network the terminal operates on. Whatever the case, you need to make sure the terminal is not programmed for the CDPD network.
Pitfall – 3, Wireless Processing, Wireless Service Coverage
The ability of being able to process anywhere at any time is a great asset for many mobile businesses. But, don't confuse the coverage area that your cellular phone gets with what is available for wireless processing. Wireless credit card terminals currently operate on three wireless networks; the Motient, Mobitex, and GPRS Edge networks. All three of these networks are considered business class networks that have much better data, speed, and security than traditional cellular networks. Wireless processing networks also have much lower cellular coverage availability than cellular phone networks.
Wireless Networks Overview
GPRS vs. Motient and Mobitex
Wireless networks are by nature a confusing topic. The Motient and Mobitex networks are different networks but wireless terminals generally use both, so I group them together. GPRS on the other hand is a completely different technology operating on different towers.
GPRS offers the best signal and widest coverage of any network available. Motient and Mobitex have good coverage in urban areas, but several states have no Motient or Mobitex coverage at all. GPRS has at the very least, some coverage in every state. In general you want to purchase a GPRS enabled terminal. The Nurit 8000 GPRS is currently the only certified terminal that operates in the GPRS network. The Nurit 8000 GPRS also uses the Motient and Mobitex networks, so there is no reason to buy an older outdated terminal. Lipman, the manufacturer of the Nurit 8000, has discontinued all other wireless terminals in favor of the Nurit 8000 GPRS. The Nurit 8000 GPRS is also referred to as the Nurit 8000S.
Mobitex / Motient Coverage: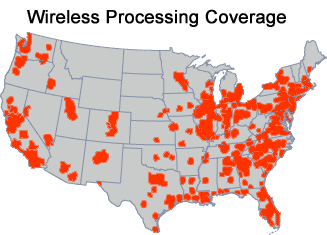 GPRS Edge Coverage (Dark Blue):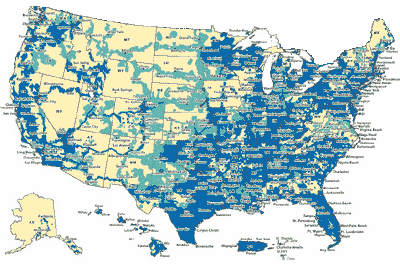 It is important to ensure that there is sufficient coverage in the areas that you intend on using your wireless terminal, otherwise an expensive wireless terminal is a waste of money. You also have the ability to plug your terminal into a standard phone line if wireless coverage is not available.
The Apriva Coverage Search will allow you to search for coverage based on ZIP codes. The GPRS Edge, Motient, and Mobitex (Velocita Wireless) networks are searchable on the Apriva website.
General Features
Wireless credit card terminals are almost identical to land line terminals except they operate on cellular networks, and use a battery instead of a power cord.
Parts of a Credit Card Machine
Wireless Only Features
Store and forward is a feature that will store a credit card transaction when wireless coverage is not available. You can later process the transaction when you connect the terminal to a phone line or wireless coverage becomes available. With store and forward a business takes the risk of having a credit card decline after the sale has been made. When using store and forward no electronic authorization is ever made, so it is possible for card to decline when the transactions are actually processed. Also, a merchant needs to batch within 24 hours of accepting a credit card using store and forward, or the transactions may downgrade. Wireless terminals can be, but are not always programmed with the store and forward application. Your service provider will need to setup a store and forward application for your terminal.
There are also a variety of accessories for wireless terminals that are useful for some but normally not needed. These include docking stations, extra batteries, and high gain antennas.
Summing it up
Before you purchase a wireless terminal, make sure you are buying a terminal that is still able to process wireless. Make sure there is sufficient GPRS Edge, Motient, or Mobitex coverage in the area that you intend on processing at unless you have access to a phone line. And, make sure you are aware of any fees that will be incurred from your service provider for processing with a wireless terminal. Following these tips will help you avoid any unsuspecting problems when your business needs a wireless credit card terminal.