April 13th, 2012 by Jamie Estep
Nurit 8000/8020 Tamper Device Prevention
Filed in: Credit Card Equipment, Mobile |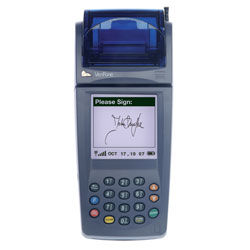 The Nurit 8020/8000 wireless terminals have become extremely prone to getting the Tamper Device error since VeriFone started manufacturing them and new security regulations were adopted. Tamper Device is an error caused by an internal security mechanism that wipes the terminal's memory if someone is trying to physically break into the terminal. This protects the terminal's PIN encryption and is a security requirement for all PIN entry devices. Unfortunately this error can be triggered on terminals that do not have PIN encryption enabled on the terminal.
When falsely triggered, Tamper Device is an annoying and time consuming error that typically requires reloading the terminal with new software and may even require the terminal to be sent back to VeriFone for repair which can cost upward of $100 each time. If the terminal was used for PIN entry, it would need to be returned to a processor for re-encryption as well.
One way to prevent Tamper Device errors from happening when the device is not being tampered with, is to keep the terminal plugged into an AC outlet when not in use. We've seen about a thousand cases of tamper device errors due to the battery running down, which triggers the terminal's internal security mechanism. Seems ridiculous that this terminal would wipe itself just due to a low battery, but it does. Keep it plugged in when not in use.
Apart from this, the best way to prevent false tamper device errors is to handle the terminal carefully. You'd be surprised how often these terminals go through extreme conditions in hot and cold areas sitting in the back of a truck or van. Don't drop it, freeze it, overheat it, spill anything on it, and generally treat it more delicately than you would a cell phone or other portable device.