August 9th, 2006 by Jamie Estep
Impressively Absurd Packaging – The American Express Black Card
Filed in: Amex / Discover | 22 comments
This is an off-topic post, but the incident was unique enough for me to blog about.
We received a package today from American Express. It was a large white box with no information on it at all.

Inside the box was a black case a little smaller than a briefcase, but weighing about 10 lbs. On the case it stated 'YOUR BUSINESS CENTURION CARD HAS ARRIVED'.

Inside the case was: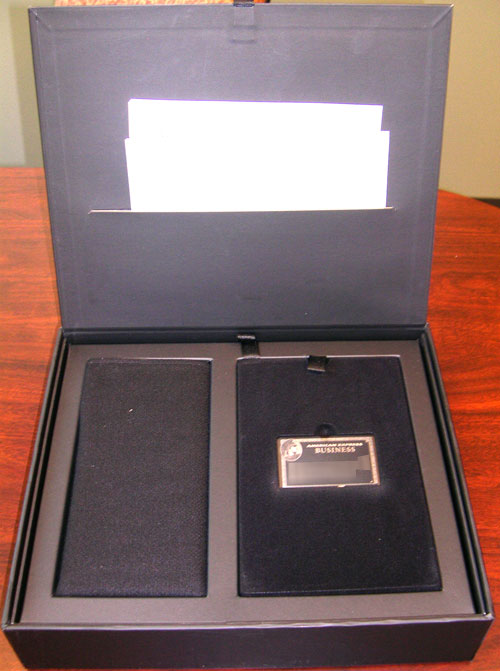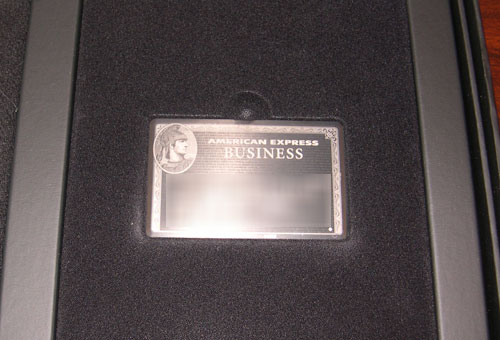 a single credit card.
The interesting thing about the Amex black card itself is that it is metal and not plastic. The entire card including the numbers is cast or milled from a sheet of metal. It weighs about double a normal credit card. I don't think any information is going to get rubbed off any time soon.
The elaborate packaging for such a small object sets a new standard in my book. I think everyone in the office came to look at how much material was used to package a single credit card.
It takes a rare product to justify the cost of packaging like this.
If you don't know about the American Express Centurion Card, I found a good article on Wikipedia: the black Amex card.