June 18th, 2008 by Jamie Estep
Hypercom's New Terminal Line
Filed in: Credit Card Equipment | 4 comments
Hypercom recently introduced the Optimum T4210 and the Optimum T4220 terminals. These terminals are the first of new standardized line of terminals from Hypercom.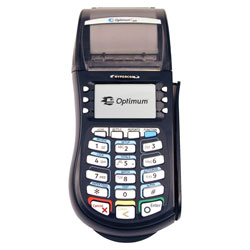 Unlike Verifone and many other manufacturers, Hypercom realized that by making a single terminal with several versions, they can reduce their production costs, and make a superior product. Hypercom's T42** and M42** line of terminals are exactly that, all the same terminal in form and operation, but with subtle hardware differences.
Hypercom's T4210 is the most basic of the series and uses a standard dial connection. Stepping up, the T4220 is an Ethernet based terminal. Third in line, the T4230, is a retail (counter-top) based cellular terminal operating on AT&T's wireless network. The M4230 is the same cellular terminal as the T4230 except it has a battery making it completely mobile. Last in the line, the Bluetooth enabled M4240, is battery powered and designed for hand-over processing such as pay-at-the-table.
This line of terminals is set to make a very strong stand against anything out there. They come in with a low price tag, and are high in features and usability. All include thermal printers, smart card capability, and internal PINpads. These are designed to be extremely easy to use, and all are identical to operate. This is a good thing, because businesses that want to upgrade within the terminal line, don't have to learn any new operating procedures. Input ports are color coded, the printer cover opens with the push of a button, and there's even a cable organizer to reduce cable clutter.
Hypercom thought these terminals through very well, and I think that they are going to be very popular once they are a little better certified. If you're in the market for a new terminal because yours is going out or you need an upgrade, I highly recommend checking these out.