December 12th, 2008 by Jamie Estep
Way Systems way5000 coming soon
Filed in: 3rd Party Processors, Credit Card Equipment | 2 comments
We just got a sneak peak at the new way5000 wireless terminal.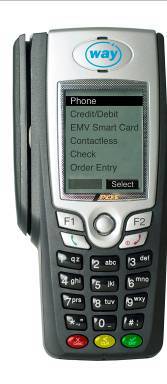 Way Systems created their own terminal instead of using a re-manufactured Siemens phone. While they technologically regressed in some areas, they made a better product that works for what it is designed to do, process credit cards. By designing from the ground up they were able to use a single keypad for PIN debit processing (Their old models had 2 keypads due to encryption requirements). New features include the ability to add additional processing applications. Once certified, the terminal will support check services and gift cards through some select 3rd party providers. There are also no longer any log in/out requirements to use the terminal, and it has the ability to install new firmware when it becomes available. The new terminal still works with existing Way Systems infrared printers, and can now be charged through a mini-USB port. It is now supported by Apriva and eProcessing Network which allows it to be used with just about every US processor.
This terminal should be available early 2009, and should be a vast improvement to existing Way Systems 1581 terminals. If you were looking at purchasing a Way terminal, it would probably be better to wait for the way5000. We expect it to be about the same price as the 1581.
You can purchase the way5000 terminal from our main website.