September 16th, 2016 by MSI Newsletters
Wireless EMV – Cellular Devices
Filed in: Monthly Newsletters |
For many small businesses mobility is a must, and over the years more and more options have been coming out to meet the needs of these businesses. From smartphones, to credit card terminals, to fully mobile point of sale systems, there is an option out there to fit any type of mobile business, but many seem to be lacking in the newest payment technologies like Smart Cards (EMV) and Apple/Samsung Pay (NFC). For those merchants who would benefit from mobile processing and would like to take the EMV and NFC, we have put together a short list of devices that we think its worth looking into.
The Quick and Simple – Smartphones and Tablets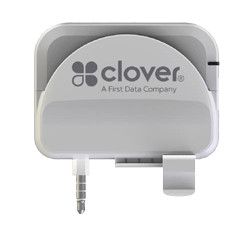 This small card reader connects through your phone or tablet's head phone jack and can accept swiped or EMV transaction through the Clover Go app. Clover will soon be releasing a model that will connect wirelessly to you Smart Device so a phone and the Clover Go no longer need to be physically connected.
While the Clover Go app is quick and easy to use it does not compromise security or convenience. This app comes with TransArmor, the industry's leading data protection solution, which secures each transaction all the way through the transaction process. For merchants already using a Clover system the Go can be integrated into the existing system to make it a mobile extension of the business.
More Robust / Higher Frequency – Desktop Wireless Terminal
Ingenico iWL255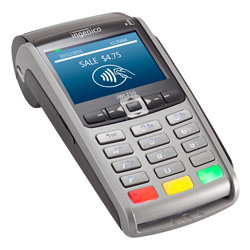 For businesses that need a device dedicated to payments most turn to wireless terminals. Good wireless terminals are absolute work horses, designed to take a high volume of credit card transactions in rapid succession. On the down side wireless devices tend to costs more than standard terminals and do carry a monthly wireless fee however if your business needs a fast and robust processing solution these are many times the best option.
The Ingenico iWL 255 is one example of a great wireless terminal option that supports both EMV and NFC transactions as well as Pin Debit. Its compact and light weight design features a bright full color display that provides outstanding readability both inside and out.  Between its extended life battery and 3G cellular communication the IWL 255 will last all day in most active retail environments.
If you are looking for a wireless terminal don't skip over the next option below.
Full Point of Sale
This device can be as minimal as a wireless terminal, or as tricked out as a full blown point of sale system. While it costs about the same as many wireless terminal options it's as flexible as you would ever need it to be. In terminal mode you have access to a small number of apps through the Clover Market which allow you to customize the device to your needs. If you want to take full advantage of Clover Mobile you can upgrade it to Point of Sale mode, which opens up inventory controls, and the full Clover app market.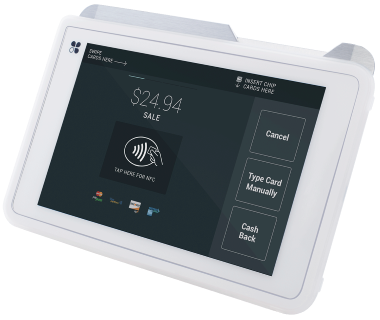 Like the Clover Go, the Mobile's transactions are secured through TransArmor, and can integrate with existing Clover systems. It comes with EMV, NFC and PIN Debit capabilities and communicates over 3G and Wifi. It features a large full color touchscreen, bar code reader, camera, and can be connected other optional hardware. For example you can add the Clover Mobile Printer which can print wirelessly and operates on an all-day battery.
The App Market give you access to add additional inventory controls, employee management, Gift Cards, customer communication and much more. Unlike traditional point of sale systems where you are stuck with the features built in by the vendor, and you pay for every feature regardless of if you use it, the App Market allows you to customize the system to your business and use the features you want. There are many free and paid apps in the market, and first and third party vendors are adding more every day.
Final thoughts
Above are just a few wireless options that are available to businesses today. All are reasonably affordable, fast, and secure, offering a unique user experience. At The Merchant Store we offer all of these devices to any business owner at wholesale prices.
If you have any questions about the options here, or even general industry questions please contact us at your earliest convenience at (866) 937-5973. For the first 5 businesses who setup a merchant account with us and mention this article we will also pay for the first 3 months of monthly fees.
If you don't have a clover station, check out the Clover POS system today. Clover is a well developed POS system for a fraction of the cost of many legacy POS systems.
We offer a free Clover mini or mobile, or up to $500 off the cost of a new Clover system for new merchant account customers.