Clover Go Phone Based POS System
Clover GO Phone Based POS System
---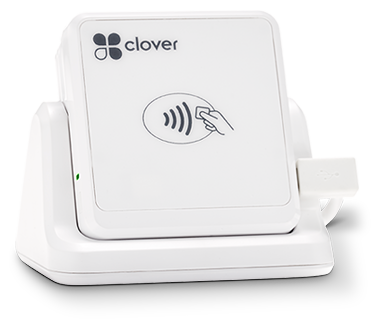 The new Clover Go is a wireless card reader that reads traditional magnetic cards, EMV chipped cards, and contactless payments such as Apple and Samsung Pay. The Clover Go connects to Apple and Android smart phones via bluetooth. It operates off an internal battery that can be charged via a USB cable.
The Clover Go is the perfect solution for small mobile businesses who need the ability to accept multiple forms of payment. The Clover Go integrates into the Clover POS system or can be used stand-alone. Clover Go is also perfect for mobile service businesses who employ multiple technicians as all of the businesses transactions can be managed in a single Clover interface.
Clover Go is the perfect POS for small and medium size mobile services not needing a full POS system at the time of sale. It's a fast, fresh, alternative to many of the bloated and extremely expensive legacy POS systems out there. And, it's a huge upgrade over cell phone based swipers. Clover is used by thousands of merchants across the US.
Sell More
---
Gift Cards
Rewards Programs
Online Integration
Run Your Business
---
Accounting
Insights and Reporting
Business Metrics
Finer Details
---
Scheduling
Inventory
Tax and Discounting
---
Technical Specifications
New Clover Go
Dimensions
2.6" x 1.9" x .7" (L x W x H)
Weight
1.7oz
Connectivity
Micro USB for Charging, Bluetooth to mobile device for payments
Payments
Swipe, EMV chip, and contactless payments like Apple Pay, Samsung Pay, and Android Pay
Battery
Estimated 160 Dip/EMV or 160 Swipe or 130 Contactless transactions per charge
Mobile OS Supported
iOS 8.2 (BT LE required) and Android 4.3 (and higher)
Original Clover Go
Dimensions
67mm x 49mm x 19mm (L x W x H)
Connectivity
3.5 mm audio jack
Payments
Swipe & EMV chip
Battery
Estimated 100+ dip (EMV) transactions or 200+ swipe transactions per charge, estimated 7+ days standby mode.
Mobile OS Supported
iOS 8.2 and Android 4.1 (and higher)