Pay-at-the-table
Systems for Pay-at-the-Table Processing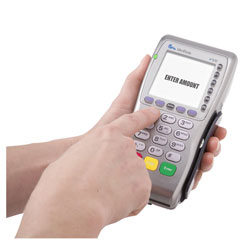 Pay at the table processing enables restaurants, and other customer oriented businesses to bring a terminal to their customer for payment. These system offer greatly enhanced card security, as your customer's credit card never leaves their sight, and eliminates the opportunity for employee fraud and skimming. These semi-mobile (WiFi) payment systems offer a much faster method of processing, and can help to reduce congestion that is common in restaurants around the credit card terminal.
Verifone's 'On The Spot':
We are proud to offer a complete pay-at-the-table system 'On The Spot' from Verifone. We recently installed this system in Ruth's Chis Steakhouse in Austin Texas with great result. You can see the press release in the Austin Statesman which gives further information about the On The Spot system. On The Spot uses the WiFi Verifone VX 670 credit card terminals, and includes centralized reporting for all terminals being used through the system.
If you would like to get setup with Verifone's On The Spot system, fill out our application, and we will get back to you with more information. On The Spot systems are deployed and supported by us and Verifone, and require a custom quote based on the exact requirements of your business.
We are currently developing a lower cost pay-at-the table system for smaller restaurants and retail stores. Please check back for updates.
Ready to get started? Apply now »