Home » Point of Sale (POS) » HIOPOS
The all-in-one HIOPOS, point of sale system
The HIOPOS is an all-in-one point of sale solution that meets the needs of most small and medium size businesses. The unit contains the computer, touch screen monitor, and printer in a single unit. Additional screens and peripherals can be added to enhance the capabilities of the system.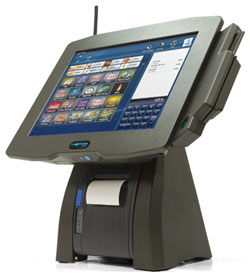 HIOPOS Features:
PA-DSS Compliant
Compact but powerful, all-in-one base unit.
Inventory control with graphical display of each item with photos.
Business templates for a variety of business types.
Scalable and Expandable: add kitchen screens, timeclocks, and more!
15" touch screen.
Windows based operating system.
Customer facing display.
Thermal printer.
Variable user permission for ease of use and increased security.
HIOPOS Add-ons:
HIOPOS supports a variety of add-ons making it suitable for more advanced POS requirements.
Cash drawer

Adding a cash drawer will allow merchants to continue accepting and tracking cash and check purchases directly through the POS system.
Barcode scanner

Integrate inventory and price management into HIOPOS when using a scanner. HIOPOS works with wired and wireless barcode scanners.
Food or goods scale

By adding an integrated digital scale, merchants can weigh and charge customers instantly for their weight specific purchases.