Home » Point of Sale (POS) » Shopkeep POS
Shopkeep iPad POS for the iPad and Mac computers
The ShopKeep POS system allows any merchant to run a full featured point of sale system on their touch screen ipad. Shopkeep supports a variety of hardware including magnetic card readers, cash drawers, and printers.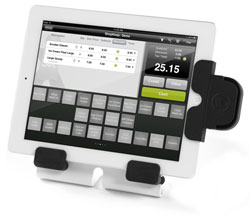 Shopkeep POS Features:
Full featured iPad point of sale system.
Supports mag readers, barcode scanners, cash drawers, printers and more.
Manages inventory.
Cash and check sales.
Discounts and tax tracking.
Create reports and detailed sales statistics.
Employee access levels.
More...
ShopKeep is the perfect POS for small and medium size retail locations. It's a fast, fresh, alternative to many of the bloated and extremely expensive legacy POS systems out there. Shopkeep is used by hundreds of merchants in the US and Canada.
ShopKeep Addons:
Magnetic card reader

The Magtek iDynamo is a secure magnetic card reader for the iPad and iPhone. Unlike most other mag readers, the iDynamo instantly encrypts the card data as it is being swiped. The iDynamo is the most secure and fastest method of swiping a card on an iPad or iPhone.
Cash Drawer

Adding a cash drawer will allow ShopKeep to act like a traditional POS system. With several drawer options, merchants can continue accepting and tracking their cash and check purchases directly through the ShopKeep software.
Additional Peripherals

ShopKeep supports a variety of peripherals such as printers, bar code scanners, and iPad stands and mounts. For much less than a traditional POS system, ShopKeep can be upgraded with the additional features you need.