IVI eN-Check 3000 Check Scanner
IVI eN-Check 3000 Check Scanner
---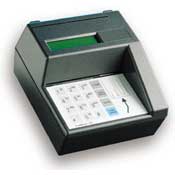 $365.98

& Ships Free!
No account or service required!
Availability:
Out of Stock. Permanent or unknown future availability!
Part Number(s): ivi3000
---
The IVI 3000 is a standalone check scanning device. It does not have the capability to process credit cards, but it makes an excellent addition for any merchant who has an existing credit card terminal, and needs to have the ability to process checks electronically.
Expressly Designed to put an End to Check Fraud, the CheckReader 3000 is a comprehensive, fast and simple-to-use check reader. The CheckReader 3000 not only excels at a variety of application including check authorization, verification, guarantee, and electronic check processing- but it is proven to be the most cost-effective and versatile check reader on the market!
Just as important, it is brought to you by the company with more check readers installed worldwide than any other company.
Protecting yourself from bad check losses is as easy as plugging the Checkreader 3000 into your telephone jack and power outlet.
The large bright display and keyboard are incredibly easy-to-use.
The keyboard layout is similar to that of a credit card terminal, making it easy to operate.
The CheckReader 3000 can be wall-mounted or placed on a counter for optimum operator convenience. Integrated modem provides direct access to electronic check processing service.
Similar Products

Magtek Mini MICR Check Reader
From: $249.98