Dejavoo Z11 Touch
Dejavoo Z11 Touch
(Dial, Ethernet, EMV, NFC)
---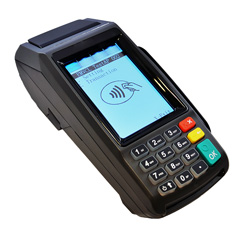 $260.98
No account or service required!
Availability:
Out of Stock. Permanent or unknown future availability!
Part Number(s): dejavoo-z11
---
The Z11 is the newest countertop touch screen terminal from Dejavoo systems. The Z11 comes in 2 versions, the first being dial and Ethernet, and the second adding WiFi connectivity. Please use the drop down menu to select the appropriate Z11 version. Currently the Z11 may not be compatible with all processors, so please confirm compatibility before ordering. The Z11 has a thermal printer, accepts magnetic stripe and EMV cards, supports NFC contactless payments, supports on screen signatures, and is one of the smallest terminals that we offer. One of the more interesting features offered with the Z11 is the ability to queue customer support to call your business directly from the terminal by pressing the F4 button (May not work with all processors).
Dual Comm with EMV and NFC Contactless Built In
3.5" TFT LCD with PCT touch pad
2.4" Color LCD with backlight
192 MB of Memory (128 MB RAM / 64 MB DDR RAM)
PCI PTS certified
EMV 4.x L1 and L2 certified
Visa payWave, MasterCard PayPass,
American Express & JCB J/Speedy certified
32bits 400MHz high speed microprocessor
Portable design with handset and base unit