First Data FD130 - w/FD35 PINpad
First Data FD130 - w/FD35 PINpad
(Dial, IP, PIN, EMV, NFC - FirstData Only)
---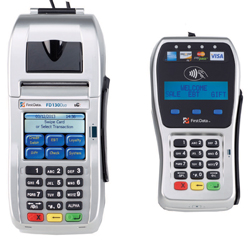 $455.98
No account or service required!
Availability:
Out of Stock. Permanent or unknown future availability!
Part Number(s): fd130-duo
---
Item Notice
This terminal has been discontinued from the manufacturer and is not longer being produced. We recommend the following terminals as a replacement:

First Data FD150 from: $265.98
The FD130 DUO includes both the FD130 credit card terminal and the FD35 PINpad for easy customer facing acceptance of EMV, NFC, and PIN entry payments. All PINpads must be encrypted before they can be used for accepting debit cards using a PIN number. We do not ship encrypted PINpads so you must send your PINpad to your processor for encryption. FD terminals are proprietary to First Data. They cannot be used with any processor other than First Data.
Similar Products

Dejavoo Z8
From: $189.98