Hypercom P8 Printer
Hypercom P8 Printer
---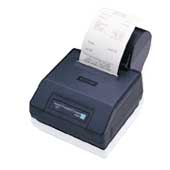 $205.98
No account or service required!
Availability:
Out of Stock. Permanent or unknown future availability!
Part Number(s): hpc-p8
---
P8 Printer Features:
Product Highlights:
Bi-directional printing improves print speed.
Quiet operation.
Easy-to-load pre-printed or plain roll paper.
Paper out and power indicator lights.
Extra wide 3 inch roll.
Small footprint.
Compatible with all Hypercom T7 terminals.
Hypercom ® P8 family printers offer higher performance, greater reliability and lower operating costs, making them superior to any other printer on the market.
P8 printers are available in either 40-column friction feed (P8F) or 23-column sprocket feed (P8S) models, making them a sensible choice for printing credit card vouchers.
The P8F roll printer helps speed transaction times with rapid paper advance at the rate of 13 lines per second.
The P8S sprocket feed printer provides printing on pre-printed forms. These are particularly suitable for custom applications that require printing of large amounts of standard text or complex International character sets.With paper advanced at a rapid 16 lines per second, customers are not kept waiting. Paper loading is simple and easy with both Hypercom printers.
In addition, both P8 printers provide quality receipts in a new, compact, quiet design. P8 printers are powered by the terminal, eliminating the need for separate power supplys and outlets.
P8F

| | |
| --- | --- |
| Printer Type | Friction feed with 40 columns |
| Paper | 3.0 in - 3.35 in/76 mm - 85 mm 1, 2 or 3- ply carbon-less |
| Font | 7 x 7 impact dot matrix |
| Print Direction | Bi-directional |
| Print Speed | 4 lines per second |
| Feed Speed | 13 lines per second |
| Character size (width/height) | 1.59 mm * 2.87 mm |
| Line Spacing | 1/6 inch |
| Ribbon Life (black) | 1,200,000 characters |
| Ribbon Size | 13 mm |
| Operating Temperature | 0-45 C/32-113 F |
| Printer Reliability | 2,000,000 lines MTBF |
| Head Life | 50,000,000 characters |
| ESD Resistance | 12,000V |
| Ribbon | RC2001B |
| Star Number | 30980120 |
| Dimension | 5.5 in x 9.0 in x 4.25 in/ 13.97 cm x 22.86 cm x 10.79 cm |
| Weight | 2.25 lbs/0.84 kgs |
| Power | 24 Vdc, 1A supplied by terminal |

P8S

| | |
| --- | --- |
| Printer Type | Sprocket feed with 23 columns |
| Paper | 3.0 in/76 mm 1, 2 or 3-ply carbon-less |
| Font | 5x7 impact dot matrix |
| Print Direction | Bi-directional |
| Print Speed | 4 lines per second |
| Feed Speed | 16 lines per second |
| Character size (width/height) | 1.97 mm * 2.87 mm |
| Line Spacing | 1/6 inch |
| Ribbon Life (black) | 1,200,000 characters |
| Ribbon Size | 13 mm |
| Operating Temperature | 0-45 C/32-113 F |
| Printer Reliability | 2,000,000 lines MTBF |
| Head Life | 50,000,000 characters |
| ESD Resistance | 12,000V |
| Ribbon | RC2001B |
| Star Number | 30980120 |
| Dimension | 5.5 in x 8.0 in x 5.0 in/ 13.97 cm x 20.32 cm x 12.7 cm |
| Weight | 2.25 lbs/0.84 kgs |
| Power | 24 Vdc, 1A supplied by terminal |
Similar Products

Verifone P250 Printer
From: $179.98

Verifone P900 Printer
From: $220.98