Ingenico iCT220 for Elavon
Ingenico iCT220 for Elavon
(Dial, Ethernet, EMV)
---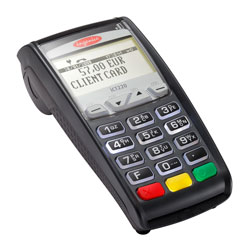 $250.98
No account or service required!
Availability:
Out of Stock. Permanent or unknown future availability!
Part Number(s): iCT220
---
This is the Elavon only version of the Ingenico ICT220. For other processors, please purchase: the non-elavon ICT220.
Current newest PN is iCT220-01P1218F. The iCT220 is a great all around terminal from Ingenico. It offers many features that are only found on terminals costing twice as much. The iCT220 offers Ethernet/IP processing as well as traditional dial connectivity and will allow for newer EMV (Chip and PIN) standards once they are adopted by card associations. The iCT220 includes a thermal printer and an internal PINpad for PIN debit transactions.