Ingenico iCT250 for Elavon
Ingenico iCT250 for Elavon
(Dial, Ethernet, EMV, NFC)
---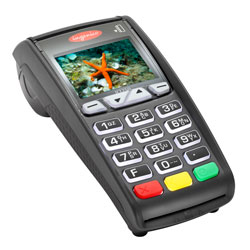 $275.98
No account or service required!
Availability:
Out of Stock. Permanent or unknown future availability!
Part Number(s): iCT250
---
This is the Elavon only version of the Ingenico ICT250. For other processors, please purchase: the non-elavon ICT250.
The iCT250 can work with NFC enabled phones and Apple Pay when setup with a processor that supports it. Not all processors support NFC or Apple Pay payments. If you are interested in accepting Apple Pay mobile payments, we are apple pay compatible. Please contact us for more information about accepting Apple Pay.
The iCT250 is a great all around terminal from Ingenico. It offers many features that are only found on terminals costing twice as much. The iCT250 offers Ethernet/IP processing as well as traditional dial connectivity and will allow for newer EMV (Chip and PIN) standards once they are adopted by card associations. The iCT250 includes a thermal printer and an internal PINpad for PIN debit transactions.