Telecheck Eclipse
Telecheck Eclipse
---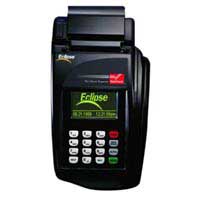 $650.98
No account or service required!
Availability:
Out of Stock. Permanent or unknown future availability!
Part Number(s):
---
The Telecheck Eclipse is an all-in-one credit card / electronic check imaging terminal. The Eclipse is the only terminal compatible with the Telecheck electronic check service. Telecheck enables businesses to electronically accept checks from their customers when using the Eclipse terminal;. Several of the new features include: a built-in ink jet printer, touch-screen interface and an innovative check imaging system.
This is the most recent version of the Telecheck Eclipse terminal. Several previous versions have been known to have major problems with the printer causing permanent and un-repairable damage to the terminal.
Detailed Description:
Businesses needs a point-of-sale payment solution that allows the acceptance of all non-cash payment types while maximizing counter space. TeleCheck has the answer with an all-in-one payment terminal that outperforms the others. The TeleCheck Eclipse payment terminal, designed in partnership with the payment technology experts at VeriFone, transforms a multi-payment option nightmare into a merchant's dream by eliminating the need for multiple terminals to authorize and process checks, credit cards, debit cards, and EBT transactions. The Eclipse terminal also enables the TeleCheck Electronic Check Acceptance (ECA) service and many other TeleCheck services.
TeleCheck and the Eclipse terminal combine the benefits of the industry's largest, most accurate databases with the most advanced authorization and payment technology.
Supports all non-cash payment options - including checks, credit and debit cards, and EBT transactions
Built-in ink jet receipt printer reduces counter space, voids ECA transactions, and endorses paper checks to includesubscriber number and approval code
Backlit touch-screen display provides user-friendly interface and exceptional visibility
Instantaneous authorization speeds up checkout
State-of-the-art check reader enables the conversion of paper checks to electronic items
Dual-track magnetic stripe reader automatically collects and inputs data from credit cards and driver's licenses
Full reporting capability provides easy access to all payment information - including both totals and details - for all payment types.
Stores up to 500 check and 300 card transactions
Check imaging allows merchants to process most checks without identification
Product Specifications:
Memory
1 Mb - 4 Mb flash
512 Kb - 4 Mb static RAM (battery-backed)
Processor
32-bit, 24 Mhz Motorola 68302
Display
Backlit graphic LCD COG display
Eight lines by 20 characters (128 x 64 pixels)
Keypad
16 keys (programmable keys)
Imaging
300-dpi capture
Capable of imaging documents as large as 8.5 inches by 3.7 inches
Printer
Hewlett-Packard Inkjet Technology
Single-color cartridge (HP51604A)
Prints on documents and roll paper
Landscape and portrait modes
4.5 lines per second
Modem
14.4 Kbps synchronous/asynchronous

Interfaces
Three RS-232 (for PIN pads, signature pads and other peripherals)
Two RJ-11 (for modem and telephone connections)
Magnetic Stripe Reader
Bi-directional magnetic stripe reader; dual track (third track optional)
MICR
Dimensions
Height: 75 mm (3.95 inches)
Width: 146 mm (5.75 inches)
Depth: 290 mm (11.4 inches)
Weight
1.82 kg (4 pounds)
Shipping weight: 3.86 kg (8.5 pounds); includes terminal, power adapter, telephone line cable, paper roll, plastic spindle and box containing inkjet cartridge
Power
120 volt AC at 60 Hz (U.S.)
Optional power supplies for UK, Australia and New Zealand
Design and Manufacturing
Manufactured by VeriFone
ISO 9001/9002 guidelines