Verifone VX520 GPRS
Verifone VX520 GPRS
(Wireless w/ Smart Card, EMV)
---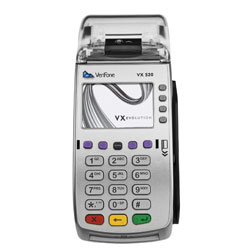 $600.98

& Ships Free!
No account or service required!
Availability:
Out of Stock. Permanent or unknown future availability!
Part Number(s): DOC252-004-EN-B
For a limited time, get this terminal 1/2 off when you setup a merchant account.
Apply or get more information today »
---
GPRS Wireless VX 520 does not include battery pack and still needs access to AC power. The VX 520 is a reliable, rugged countertop device that's built to last. It handles encryption, decryption and processing at lightning speeds thanks to its powerful processor and expandable memory. Integrated NFC capabilities support alternative payments and also supports value-added applications such as loyalty or gift card acceptance.
A full range of connectivity options, from dial and Ethernet to GPRS, with an optional battery allows the VX 520 to go wherever you go. A uniquely designed communication port area underneath the device keeps countertops neat and free of clutter.