Magtek SureSwipe USB Card Reader
Magtek SureSwipe USB Card Reader
(P/N 21040145)
---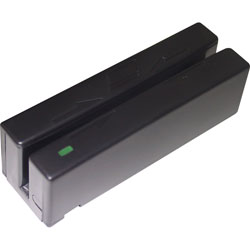 $61.98

& Ships Free!
No account or service required!
Availability:
Out of Stock. Permanent or unknown future availability!
Part Number(s): 21040145
---
The SureSwipe has been replaced by the Magtek Dynamag PN: 21073062.
The SureSwipe Reader - P/N 21040145 - is available with a USB interface in Keyboard Emulation mode. The SureSwipe reader captures 3 tracks of data from all ISO and AAMVA encoded magnetic stripe cards. A green/red LED indicator on the reader provides the operator with status of the reader operations.
Features
Includes two magnetic read heads
Three track capability
Bi-directional read capability
Reads cards that meet ISO and AAMVA standards
USB Interface: standard HID or Keyboard Emulation
Powered by USB (No external power supply required)
Includes USB interface (6 ft. cable)
Dual color LED
No third-party device driver required
Detailed Description:
General Information:
Read Heads: Two magnetic read heads
Interface Type: USB Keyboard Emulation
Dimensions: Height: 1.23 in (31,3 mm), Width: 1.28 in (32,5 mm), Length: 3.94 in (100 mm)
Specifications:
Reference Standards: ISO and AAMVA
Power Input: From USB
Recording Method: Two-frequency coherent phase (F2F)
Card Speed: 3 - 60 i.p.s. (forward or reverse)
Card Types: ISO and AAMVA (drivers license)
Environment:
Temperature:
Operating: -40°F - 158°F (-40°C - 70°C),
Storage: -40°F - 158°F (-40°C - 70°C)
Humidity:
Operating: 10% - 90% non-condensing,
Storage: 0% - 100% non-condensing
Altitude:
Operating: 0 - 10,000 ft (0 - 3,048 m),
Storage: 0 - 50,000 ft (0 - 15,240 m)