Verifone VX820 PINpad
Verifone VX820 PINpad
(PINpad w/EMV, PCI PED)
---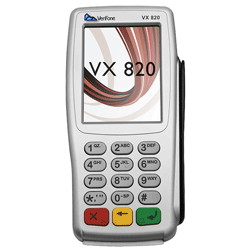 $200.98
No account or service required!
Availability:
Out of Stock. Permanent or unknown future availability!
Part Number(s): M282-703-03-R-3
---
Note on PINpads! The PINpads we offer are not encrypted and can be used with any processor. However, your processor must encrypt them before they can be used. Please contact your current processor for the cost and to ensure compatibility.
The newer VX820 PINpad must have a XPI pre load to be compatible with a specific processor. This is a separate installation than a PIN injection which must also be done with a specific processor. Please make sure to select the correct XPI load from the dropdown menu. If your processor's XPI version is not listed, we do not offer that version. These PINpads still need to be encrypted before they are able to be used for accepting PIN debit cards.
The Verifone VX820 PINpad is a smart card and EMV capable PINpad from Verifone. It has a large, easy to read screen and is compatible with upcomming EMV requirements. The VX820 is compatible with later-model Verifone VX credit card terminals, and the VX820 Duet base. Please check with your processor for compatibility before ordering.
Similar Products

Verifone VX805 PINpad
From: $123.98