First Data FD130
First Data FD130
(Dial, Ethernet, WiFi, EMV, NFC - FirstData Only)
---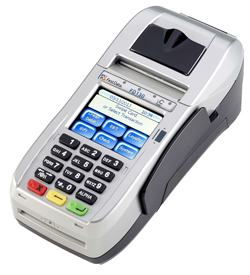 $235.98
No account or service required!
Availability:
Out of Stock. Permanent or unknown future availability!
Part Number(s): N-FD-130
Compare the First Data FD130 with other popular equipment.
---
Item Notice
This terminal has been discontinued from the manufacturer and is not longer being produced. We recommend the following terminals as a replacement:

First Data FD150 from: $265.98
The FD130 has been replaced by the FD150. These terminals have virtually identical functionality except the FD150 is faster ans has more memory, please order the FD150 for all current FD terminal requirements.
The FD130 is the newest countertop terminal from FirstData. The FD130 is a proprietary terminal and will only work on First Data processing platforms, such as First Data Omaha, or Nashville. The FD130 is compatible with EMV chip payments as well as NFC and Apple Pay payments and includes an internal PINpad for PIN entry.
The terminal must be encrypted before it is able to accept a PIN debit payment. This will require you to send it to First Data or your processor. It will still process other payments including credit, debit (with signature), EMV, and NFC without being encrypted.
The FD130 uses a fast thermal printer and has the ability to process over a dial or ethernet connection as well as WiFi wireless connections. Please note, that due to the increased amount of data required for EMV and NFC payments, it may be time-prohibitive to accept these when using a standard dial phone line for processing. Processing over the internet through the Ethernet connection may be required for proper function of EMV and NFC. The FD130 is currently the only standalone First Data terminal to support NFC and EMV.
Industries Served
Retailers
Restaurants
Quick-Service Restaurants
Mail Order/Telephone Order
Grocery Stores
View an interactive demo of the FD130 credit card terminal.
Detailed Description:
FD130 Features
Compact design
Windows CE 6.0; speedy ARM9 400Mhz CPU
Processing capabilities for ATM, debit, electronic benefits transfer (EBT) transactions and check payments
Fast printer capable of 15 lines per second
IP connectivity with dial-up as a backup and Wi-Fi as an additional option
Durable keys
Touch-screen capability with 320x240 color display
Merchant-friendly one-touch feature for daily functions
Three-track magnetic-stripe reader
64 MB RAM standard memory
Three USB ports
Address verification service
Batch history
Simplified support and installation
2.25-inch-wide thermal roll printer