Equinox Hypercom T4220
Equinox Hypercom T4220
(Ethernet / Smart Card / EMV)
---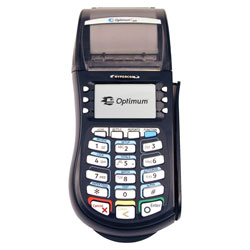 $340.98
No account or service required!
Availability:
Out of Stock. Permanent or unknown future availability!
Part Number(s): 010332-359R
---
Item Notice
This terminal has been discontinued from the manufacturer and is not longer being produced. We recommend the following terminals as a replacement:

Verifone VX520 EMV from: $179.98

Ingenico iCT220 from: $145.98

Ingenico iCT250 from: $230.98
We have a limited number of T4220's remaining in stock. These are EMV / Smart card ready terminals and include a built-in thermal printer, and internal PINpad for PIN debit transactions.
The Hypercom T4220 is a PCI-PED compliant, low cost, Ethernet credit card terminal. The 4220 is available in Smart card / EMV and non smart card versions. It is currently the most popular credit card terminal that we sell. The 4220 can process over an IP connection, or a traditional dial connection, and includes an IP diagnostics program making it easy to setup and diagnose connection problems. The T4220 includes a 15 line per second thermal printer, and has an internal PINpad for PIN debit transactions. An external PINpad can also be added for better customer convenience. The 4220 is one of the smallest credit card terminals available, roughly the size of a box of bank checks, and weighs less than 2lbs. With 24MB of memory, the T4220 can meet the needs of most merchants and can easily handle additional applications such as gift cards or electronic check services.