Verifone VX570
Verifone VX570
(Ethernet / Dual Comm)
---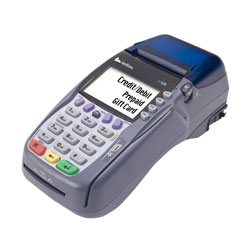 $290.98
No account or service required!
Availability:
Out of Stock. Permanent or unknown future availability!
Part Number(s): M257-000-02-NAA
---
The VX570 is fully PCI-PED certified which complies to upcoming security standards. The VX570 includes a thermal printer, an integrated smart card reader, internal PINpad, and high memory (6Mb) for advanced processing applications. The VX570 is the first countertop terminal to feature Verifone's new white back-light for enhanced readability and reduced glare.
SSL, and VeriShield file authentication increase processing security, while additional SAM modules can be added for expanded peripheral usage.
The VX570 comes in 4 versions, and the terminal we offer is the DC (Dual Comm Ethernet without Smart Card) version.
The VX570 is not certified with all processors, so be sure to check with your processor for compatibility before ordering.
Detailed Description:
Remarkable Power and Performance
200 MHz, 32-bit ARM9 processor for exceptionally fast processing.
Up to 12 MB of memory allows for multi-application capabilities
Dial communication module can be upgraded to dial and Ethernet without switching devices
Integrated USB technology port allows for secure and easy application downloads from a Flash memory drive
Built on the VX Solutions infrastructure and its suite of familiar TCP/IP tools for smooth migration from Omni 3700 solutions
Exceptional Flexibility and Functionality
Intuitive ATM-style interface, bold menu prompts, larger pixels and white backlit display facilitate use and readability
Integrated thermal printer with optional support for paper roll that is 40% larger than the standard size
Internal PIN pad supports debit and other PIN-based applications
Triple-track, high-coercivity card reader accurately handles most magnetic-stripe cards, including mini-cards
Security Access Modules support multiple smart card solutions and offer added data protection for EMV smart card transactions
Integrated high-speed thermal printer (18 lines per second) speeds overall transaction times from swipe to print
Sophisticated Security Features Deter Threats
Most recent security, including end-to-end SSL encryption and sophisticated VeriShield file authentication
PCI approved for debit and other PIN-based transactions, and has EMV Level 1 and Level 2 Type Approval
Application separation at hardware and software levels minimizes or eliminates the need to re-certify existing payment applications every time an application is added or modified and third-party applications can coexist securely
Product Specifications:
Processor:
200 MHz ARM9 32-bit RISC microprocessor
Memory:
6 MB (4 MB of Flash, 2 MB of SRAM) Optional 12 MB (8 MB of Flash, 4 MB of SRAM)
Display:
128 x 64 pixel graphical LCD with backlighting; Supports 8 lines x 21 characters
Magnetic Card Reader:
Triple-track (tracks 1, 2, 3), high coercively, bi-directional
Smart Card (Optional):
ISO 7816, 1.8V, 3V, 5V or synchronous and asynchronous cards; EMV Level 1 and 2
Type Approved:
SAM Card Reader (Optional) 1 or 3 Security Access Modules
Keypad:
3 x 4 numeric keypad, plus 8 soft-function keys and 4 screen-addressable keys; PCI approved
I/O Modules:
14.4k modem module; Ethernet and 14.4k modem combination module
Peripheral Ports:
One USB 1.1 port supports flash memory devices; Two RS-232 ports support peripherals including PIN pads and check readers; One telco port and one Ethernet (with Ethernet/14.4 I/O module) support communications
Printer:
Integrated thermal printer with graphics capabilities, 18 lines per second, 24 or 32 columns, standard paper roll 58 mm (2.25 in.) x 25M, single ply; Optional large paper roll 58 mm x 35M
Modem:
Standard 14.4k bps modem supporting Bell 103/212a, CCITT V.21/V.22/V.22bis/V.32/V.32bis (300/1200/2400/9600/14400 bps) and HC Fast Connect for 1200 bps.
Protocols:
Application selects between asynchronous protocols (Visa 1, Visa 2, and others) and synchronous protocols (including ISO 8583/SDLC)
Security:
SSL v3.0, 3DES encryption, Master/Session and DUKPT key management; VeriShield file authentication
Physical:
Length: 209 mm (8 in.);
Width: 102 mm (4 in.); Height: 78 mm (3.07 in.)
Weight: Terminal/750 g (1.65 lbs.), Full shipping/1,377 g (3.03 lbs.)
Environmental:
0 to 40 C (32 to 104 F) operating temperature,
5% to 90% relative humidity, non-condensing
Voltage:
AC input 100 - 240 VAC, 50/60 Hz; DC
Output 8.6 - 9.4 VDC, 4.0 Amp