Mobilescape 5000
Mobilescape 5000
---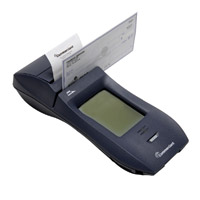 $975.98
No account or service required!
Availability:
Out of Stock. Permanent or unknown future availability!
Part Number(s): mbsc5000
---
The Mobilescape 5000 is a unique terminal for wireless processing. It is the first terminal that we have found that is a full-featured wireless check processing terminal. The Mobilescape 5000 can process credit cards and can process checks using a check conversion program. The Mobilescape 5000 is extremely easy to operate using the graphical interface, and includes a thermal printer for receipts. Mobilescape terminals operate on the Sprint / Nextel wireless network which is one of the best developed wireless networks in operation.
Because of the way that Mobilescape terminals are programmed, you must process with us in order to use the Mobilescape terminal. We can provide you with both credit card and check processing services for the Mobilescape 5000.
Similar Products

Mobilescape 3000
From: $650.98

Verifone Nurit 8020
From: $375.98
Mobilescape 5000 Guides and Downloads
(These open in a new window).
Mobilescape 5000 Quick Reference Card for Credit Cards
Mobilescape 5000 Quick Reference Card for Checks
Mobilescape 5000 User Guide
Mobilescape 5000 Data Sheet