Way Systems MTT 1510
Way Systems MTT 1510
---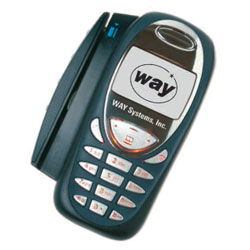 $475.98
No account or service required!
Availability:
Out of Stock. Permanent or unknown future availability!
Part Number(s): MTT-1510
---
Item Notice:
The Way Systems MTT 1510 has been discontinued, and is no longer available. The Way Systems MTT 1531 is available as a replacement for $498.98.
The MTT 1510 is a great little wireless terminal from Way Systems. It is based on a compact Siemens cellular phone, and is a very portable way to accept credit cards for mobile businesses. The MTT 1510 can be outfitted with an external printer, and because it operates on the Cingular GPRS wireless network, it has some of the best coverage that you will find in any wireless terminal. It has excellent battery life, and only takes a few seconds to process a credit card once it is swiped.
WAY Systems' Mobile Transaction Terminal (MTT) combines low-cost Mobile phone technologies with the capabilities of a point-of-sale (POS) terminal. The MTT integrates the security and functionality of a traditional POS terminal with the convenience of a mobile phone to create a terminal that accepts payment any where at any time.
The MTT 1510 is super small and operates on the GPRS wireless network, which offers the widest coverage of any wireless network available. The MTT 1510 also has the ability to attach to a printer, without additional cables making it the perfect mobile solution.
Similar Products

Way Systems MTT 1556
From: $425.98
Way Systems MTT 1510 Guides and Downloads
(These open in a new window).
Product Specifications:
Wireless Communications
TRI-band GSM 900 / 1800 / 1900 MHz
POS Transaction Storage
Stores 60-120 transactions
POS Processor
High performance 16 bit microprocessor optimized for low power consumption
Security
MULTOS 4.06+ Link Security Module
PKI (for key exchange between
MTT and Server)
3DES Encryption
Printer (optional)
Mobile thermal printer, infrared communications
Keypad/Pinpad
Uses telephone style keys for data entry
Magnetic Stripe Card Reader
Tracks 1,2 and 3
Smart Card Reader
EMV Level 1
EMV Level 2 Visa Smart POS integration in progress
Battery
Up to 200 hours stand-by time
Up to 300 transactions per charge
Dimensions
Height: 4" (102 mm) x
Width: 2.1" (54 mm) x
Depth: 1.2" (30 mm)
Weight
Total Weight: 5 oz. (142g)
Printer: 8.8 oz. (250g)