Lipman Nurit 222 Pinpad
Lipman Nurit 222 Pinpad
---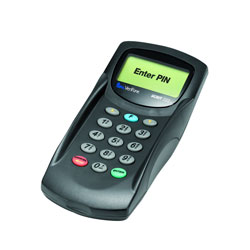 $95.98
No account or service required!
Availability:
Out of Stock. Permanent or unknown future availability!
Part Number(s):
---
The Nurit 222 is a low-cost, easy-to-use PIN pad that enables reliable and secure debit payments and other PIN-based transactions in a wide variety of business locations. This compact, ergonomic PIN pad is a robust, field-proven device that assures dependable, high-level performance with maximum convenience.
Similar Products

Lipman Nurit 292 Pinpad
From: $105.98
Detailed Description:
Comprehensive Security
The Nurit 222 is a Visa PED approved PIN pad that provides the high degree of security required for PIN-based transactions. This tamper resistant, tamper-evident, and tamper-responsive device protects against fraudulent intrusion and corruption. Any attempted breach of security results in immediate destruction of all encryption keys and other sensitive data. The Nurit 222 safeguards transactions with multiple key management schemes, including Fixed, Master/Session and DUKPT, with DES and Triple DES support.
Compact Convenience
The sturdy, shock-resistant Nurit 222 has a lightweight and elegant design that fits comfortably in the palm of your hand. Its convenience and ease of use is further enhanced by its ergonomic keypad and easy-to read, graphical LCD display with multi-language font support and clear customer prompts.
Cost-effective Functionality
The Nurit 222 integrates effortlessly with any Nurit POS, ECR or third party device to provide an efficient, convenient and economical solution for debit payments and other PIN-based transactions. The PIN pad is approved for use in conjunction with a payment system equipped with a secure EMV-compliant smart card reader to support low cost migration to PIN-based EMV credit and debit transactions. The Nurit 222 is firmware upgradeable, providing compatibility with future customer requirements.
Features &- Benefits
Comprehensive Security
Visa PED-approved for Online transactions
DES, Triple DES and with Fixed, Master/Session and DUKPT schemes
ISO and ANSI-compliant PIN protection and encryption
Secure RAM for more than 100 encryption keys
Compact and Convenient
Easy connection to NURIT or proprietary POS devices and ECRs
Large easy-to-read graphical display with multi-language font support
Large, ergonomic 15-key keypad
Compact and Lightweight design for handheld or counter-top operation
Cost Effective Migration to EMV
Approved for Offline PIN when used with approved secure EMV device
Upgradeable firmware with secure download
Product Specifications:
Security
Visa PED Online approved; approved for EMV Offline PIN with appropriate EMV terminal;
Tamper-resistant, tamper-evident,tamper-responsive for immediate key erasure;
Triple DES, DUKPT, Master/Session and Fixed encryption key management
User Interface
128 x 64 pixel graphical display;
multi-language font support; 15-key ergonomic keypad
Memory
Secure RAM for more than 100 encryption keys
Data Interface
RS-232; cable with 4-pin RJ11 connector
Power
6 to 20 VDC, 80 mA @ 6V nominal, via RJ11 cable connector
Environment
Operating temperature: 00 Cto 500 C;
storage: -200 Cto 600 C
humidity: 5% to 95% non-condensing
Dimensions and Weight
H39 mm 11.5 in) xW81 mm 13.2 in) x D 170 mm 16.7 in!; 195 g 10.43 lb)