Lipman Nurit 292 Pinpad
Lipman Nurit 292 Pinpad
---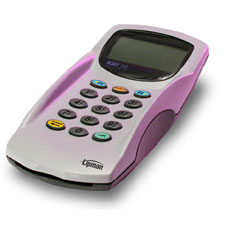 $105.98
No account or service required!
Availability:
Out of Stock. Permanent or unknown future availability!
Part Number(s):
---
The NURIT 292 is a powerful, programmable, multi-functional PIN Pad offering comprehensive security. Tamper-Resistant, Tamper-Evident, and Tamper-Responsive, this sophisticated unit incorporates multiple key management techniques to protect against fraudulent intrusion and corruption. Safeguarding transactions - as well as application and key downloads - it meets the highest international security requirements, including Visa & MasterCard and ISO 9564. It supports all major payment types, as well as a wide range of applications, and easily interfaces with peripheral devices. It is compatible with all Lipman terminals & ECRs, as well as third party POS systems.
The NURIT 292 is designed for the high degree of security required for EMV, electronic purse, and other Smart Card applications as well as for other PIN Pad transactions. The degree of security is selected according to specific customer needs.
Incorporating today's most advanced techniques, this tamper-resistant, tamper-evident and tamper-responsive unit protects users from fraudulent intrusion and corruption. The PIN Pad can destroy all keys and other sensitive data immediately upon detecting tampering, making further use impossible.
The integrity of card transactions – as well as the downloading of applications and keys - is assured through the use of multiple key management schemes, including Master/Session and DUKPT (Derived Unique Key Per Transaction).
Product Specifications:
User Interface:
B & W LCD
128 x 64 pixel graphical display
52.6mm (2.1") x 27mm (1.1")
15 Ergonomic Keypad
Multi-Language Font Support
Smart Card Reader:
Front Entry
ISO 7816 contact
Long Life; 100K transactions
EMV Level 1 Approved
Processor and Memory:
32-Bit ARM processor for fast cryptography
1 MB Flash Memory (2 Mb Optional)
128 KB (512 KB optional) secure RAM Key Storage
One Year battery backup minimum
Software:
Powerful and proven (NOS 7) Nurit Operating System
Approved EMB Level 2 Kernel
Same applications run on all Lipman Terminals
Security Options:
Secure PIN entry and encryption
Tamper-responsive key erasure
Tamper Evident
RSA signature secured download
Visa PED
DUKPT, Master/Session Key, Fixed Key
DES and Triple DES
MAC generation
Meets ANSI X3, 92 X9, 24, X9, 8
Approvals:
Visa PED
EMB Level 1 & 2
FCC part 15
CE
Power Input:
Via PIN Pad Connector
Dimensions:
39mm x 81mm x 170mm (1.5" x 3.3" x 6.7")
Weight:
230g / .5 lbs