Lipman Nurit 202 Pinpad
Lipman Nurit 202 Pinpad
---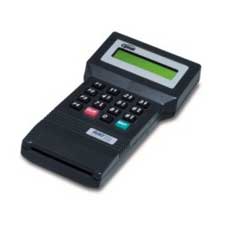 $100.98
No account or service required!
Availability:
Out of Stock. Permanent or unknown future availability!
Part Number(s):
---
Item Notice:
The Lipman Nurit 202 Pinpad has been discontinued, and is no longer available. The Lipman Nurit 222 Pinpad is available as a replacement for $95.98.
Nurit 202 Pinpad
The NURIT 202 is an easy-to-use PIN Pad for diverse businesses around the globe - enabling reliable PIN entry for both debit and credit transactions.
Compact and lightweight, the NURIT 202 fits snugly into the palm of the hand, and can be easily and securely used. The rugged, field-tested design assures continuous, dependable service in even the most difficult environments. The unit is compatible with all NURIT terminals, electronic cash registers (ECRs), and third party POS Systems.
Security Standards
The NURIT 202 offers a high level of security, meeting stringent international requirements. The unit complies with ISO and ANSI encryption standards for PIN block encryption and key management.
Standards include DES (Data Encryption Standard), Triple DES, DUKPT (Derived Unique Key Per Transaction), and ANSI key management standards. FIPS 140-1 Level 2 security certification is optionally available. The optional security shield assures complete user privacy and confidentiality.
Features and Benefits
Includes an easy-to-read, 2-line/16 character s per line alphanumeric LCD display.
Operates as a secure PIN pad.
Complies with ISO and ANSI encryption standards.
Supports Master-Session keys.
Supports the Derived Unique Key Per Transaction (DUKPT) key management technique.
FIPS 140-1 Level 2 certification (optional).
Very small hand-held or table-top footprint.
Fully compatible with all NURIT terminals, electronic cash registers (ECRs), and 3rd party POS systems.
Four programmable function keys allow simplified operations.
Monotone beeper for audio feedback.
Asterisk for visual feedback.
Entire program code on one microchip for added security.
Field-proven design.
Impact-resistant construction.
SPECIFICATIONS
Hardware
Display:
2-line/16 characters per line alphanumeric LCD.
Keypad:
16 keys; reliable, ergonomically designed.
Memory:
8 Kbytes RAM; 64 Kbytes ROM and EEPROM for multiple key storage.
Security
Software controlled DES and Triple DES encryption.
DUKPT key management.
Secure EEPROM key storage.
Optional FIPS 140-1 Level 2.
Host Interface
Connector:
4-pin RJ-11C for power and data communication.
Power:
6 to 14 volts DC at less than 30 mA.
Data interface:
Compatible with V.24/RS- 232 signal levels; Asynchronous serial (7/8 data bits, even/no parity), 1200 bps default, 300 to 19,200 bps selectable.
Physical
Size:
H-2.4 cm (0.94 in) x W-7.15 cm (2.81 in) x D-17.38 cm (6.84 in).
Weight:
190 g (0.42 lb).