Lipman Nurit 3020
Lipman Nurit 3020
---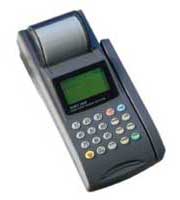 $329.98
No account or service required!
Availability:
Out of Stock. Permanent or unknown future availability!
Part Number(s):
---
Item Notice:
The Lipman Nurit 3020 has been discontinued, and is no longer available. The Verifone Nurit 8320 is available as a replacement for $395.98.
Nurit 3020 Processor and Printer Combination w/internal PINpad. The NURIT 3020 is an innovative and flexible state-of-the-art payment terminal offered to the retail merchant community. The Nurit 3020 is the land-line version of the wireless Nurit 3010, and is an upgraded version of the Nurit 2085 plus. The Nurit 3020 is a very reliable, fast processing machine that includes a built in thermal printer and an internal PINpad for debit transactions without the need for an additional PINpad. Because of the versatility, price and advanced features of this machine, we highly recommend the Nurit 3020 for any merchant who needs the ability to accept all card types including debit and smart cards, but wants an all-in-one unit at a low cost.
Lipman Nurit 3020 Key features
High speed 14.4 kbps modem for blazing fast settlement.
A very small footprint frees up precious counter space.
The Large, backlit graphical display is easy to read.
Built in PIN pad and optional smart card reader improve security and convenience.
Helps organize business and track transactions with customizable reporting features.
Nurit 2085 Can handle multiple payment types

Credit
Debit
Cash
T & E
EBT
Check Verification, Guarantee and Conversion
Pre-Paid Cards
Loyalty / Gift Cards
Smart Cards
Proprietary Car

Signature capture software with external PIN pad.
NURIT 3020 - A TOTAL SOLUTION FOR TOTAL CONVENIENCE
The NURIT 3020 offers a complete transaction solution in one compact package. It's a combination POS/EDC terminal with quiet, quick-loading thermal printer. Built in PIN pad and optional smart card reader add efficiency, convenience and security. Plus, customizable hot keys shortcuts make daily operation a breeze.