Verifone Nurit 8320
Verifone Nurit 8320
---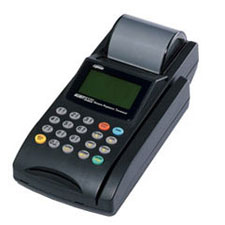 $395.98
No account or service required!
Availability:
Out of Stock. Permanent or unknown future availability!
Part Number(s):
---
Item Notice:
The Verifone Nurit 8320 has been discontinued, and is no longer available. The Lipman Nurit 8400 is available as a replacement for $261.98.
The Nurit 8320 is an upgrade from the Nurit 3020, and is based on the time-tested Nurit 2085 platform. The Nurit 8320 offers a compact terminal with a built in thermal printer and internal PINpad for pin-debit transactions. The Nurit 8320 is the most advanced, fully certified, land-line terminal available from Lipman.
The Nurit 8320 can accept an external PINpad, check reader, or smart card reader and like its predecessor can handle multiple merchant accounts on a single terminal.
The 8320 will meet the needs of most any retail business, and is compatible with almost every processor in the US.
Verifone Nurit 8320 Guides and Downloads
(These open in a new window).
Detailed Description:
The Nurit 8320 is a secure and reliable countertop POS device, ideally suited to the needs of small and medium-sized businesses. This best selling, easy to handle device offers a range of features specifically designed to provide customers with enhanced profitability, high performance functionality and all-in-one convenience.
Cost-Effectiveness
The Nurit 8320 assures low cost of ownership through a combination of fast transaction processing, outstanding reliability and increased revenue generated from value-added services. Running the proven multi application Nurit Operating System (NOS), the Nurit 8320 supports an extensive range of customized vertical and payment applications. The device's secure internal PIN pad and integrated smart card reader enable smooth and economical migration to PIN based EMV transactions.
Multi-Market Flexibility
The Nurit 8320 is easily customized to meet specific operational and branding requirements, including color coordination, logos, display fonts, and keypad functionality.
Transaction Security
The Nurit 8320 is approved by Visa and MasterCard for secure PED transactions. Tamper resistant, tamper-evident, and tamper-responsive, this sophisticated terminal provides secure software download and outstanding protection against fraud. The device's secure multi application environment also prevents unauthorized inter application data access.
Wide Variety of Communication Options
With optional Ethernet or RS-485 LAN connectivity and a GSM/GPRS cellular modem, as well as standard land line dial-up via an internal high-speed modem, the Nurit 8320 provides convenient communication options for any business location.
Product Specifications:
Processor:
32-bit ARM RISC microprocessor
Memory:
2 - 8Mb Flash, 2 - 4Mb RAM
User Interface:
128 x 64 pixel backlit multi-graphical display.
Multi-language font support.
20 key ergonomic keypad.
Card Reader:
Dual or Triple track, vertical swipe, bi-directional.
Smart Card:
EMV 2000 Level 1, ISO 7816.
5V, 3V, 1.8V cards, t=0,t=1, asynchronous, synchronous.
SAM Sockets:
Optional 2 and 4 SAM sockets.
Peripheral Ports:
Parallel phone or LAN.
RS-232.
Pinpad.
Printer:
Thermal graphic printer.
12.5 lines per second.
57MM (2.35in) wide paper, easy load mechanism.
Security:
Visa PED Online and Offline.
Secure internal Pinpad with Triple DES encryption, secure download.
Communications:
14.4 kbps modem.
Optional (V.21/V.22/V.23/V.32bis) up to 56kbps
Optional HDLS, TCP/IP, 10BaseT Ethernet.
Dimensions:
(H x W x D) 3.23in x 4.25in x 9in.
1.66lbs including paper roll.
Environment:
Operating Temperature: 0° C - 50° C.
Storage: -20° C - 60° C.
Humidity: 5% - 95% non-condensing.
Battery and Power:
100-300 VAC switching power adapter.
Output: 16 VDC / 1.5 A.
Optional 770 mAh Ni-MH trickle charge battery for backup operations.