Verifone P900 Printer
Verifone P900 Printer
(Refurbished)
---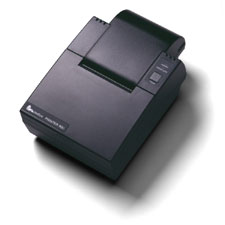 $90.98
No account or service required!
Availability:
Out of Stock. Permanent or unknown future availability!
Condition:
Factory Refurbished
Part Number(s): p900-r
Please call us as (800) 532.4966 to check availability. We often have refurbished terminals in stock. However, due to the difficulty in keeping these in stock, please contact us for availability.
---
Verifone P900 Ribbonless Printer (Refurbished): compatible with all verifone processors, and most other processor brands. FEATURES Reduces print times with bidirectional, 3.7-lines-per-second printing and rapid paper advances Performs reliably with a print head life of 100 million characters, or 14.7 years based on standard receipt of 374 characters on 33 lines, 50 receipts per day. Is compatible with all VeriFone-developed PRINTER 200 and 250 text applications Works with all VeriFone terminals that support printers and interfaces with non-VeriFone terminals Indicates when paper is low or out via an LED Reduces paper jams through automatic paper loading Produces crisp, legible characters with 8-pin serial dot matrix print head Supports double width, double height and double width/height characters Uses a high-yield ribbon with a life of 2.0 million characters, or 3.5 months based on 50 receipts per day Ensures convenient access to the ribbon through an easy-to-open cover Supports ribbonless printing with special impact-sensitive paper Includes universal power supply with country-specific power cords Optional combo power supply provides power to the PRINTER 900 and TRANZ? 3XX or Omni? 3XX family terminals.
Similar Products

Verifone P250 Printer
From: $179.98

Verifone P250 Printer
From: $75.98

Verifone P900 Printer
From: $220.98
Verifone P900 Printer Guides and Downloads
(These open in a new window).