Pax S90 Wireless GPRS
Pax S90 Wireless GPRS
(GPRS)
---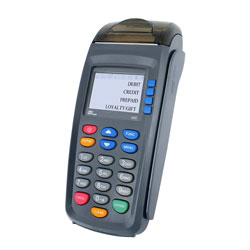 $349.98
No account or service required!
Availability:
Out of Stock. Permanent or unknown future availability!
Part Number(s): S90-MW0-363-01EA
---
The PAX S90 GPRS is a GPRS enabled wireless terminal from PAX Global Technology. PAX is one of the newest terminal manufacturers on the market and this terminal is quickly becomming our favorite wireless terminal. It is very fast and the functionality resembles the very popular Nurit 8020. One of the best features of the S90 is that it has paper roll capacity almost double of many other popular wireless terminals.
The S90 is EMV compliant, and comes with a thermal printer and internal PINpad. The S90 is already compatible with most processors. It is very compact and based on the development and hardware should be a great terminal for many years.
Supplies and Accessories
Similar Products

First Data FD410DW
From: $560.98

Verifone VX675
From: $411.98

Verifone VX680
From: $470.98
Detailed Description:
PAX's S90 mobile POS terminal has been designed to offer superior wireless performance, embedded in a ruggedized yet stylish form factor. With options for single SIM or dual SIM functionality, and with a large memory and a high capacity Li-ion rechargeable battery, the S90 is one of the most popular mobile terminals with merchants today.
The S90 comes with inbuilt contactless, PCI PTS 3.x certification and delivers secure transactions using an ARM11 processor to support DUKPT, Master/Session, DES and 3DES.
The ARM11 microprocessor assures faster, reliable transactions anywhere and every time. It offers an unparalleled array of wireless connectivity configurations GPRS / 3G (WCDMA).
Product Specifications:
Processor
32-bit ARM11
Memory
192MB (128MB Flash, 64MB DDR)
Display
128 x 64 pixel LCD,
White backlit
Keypad
10 numeric / letter & 8 function keys
4 ATM keys, 1 Power ON / OFF key
Printer
Thermal graphic printer, Speed: 18 lps
Standard paper roll: 58mm (2.25 in.)
Magnetic Card Reader
Track 1 / 2 / 3, bi-directional, ISO7812
Smart Card Reader
1 user card, EMV
Contactless card Reader (built-in)
MasterCard PayPass
Visa payWave
ISO / IEC14443,Type A / B, Mifare®, Felica Compliant
Maximum effective distance up to 4cm
4 RF Indicators: Red Yellow, Blue, Green
Barcode Reader (optional)
1D barcode scanner
Card Slots
2 SAMs, ISO7816
2 SIMs (optional)
Communication
Wireless: GPRS or 3G (WCDMA)
Modem (optional):
Sync. (HDLC, up to 9600bps)
Async. (V.92, up to 56Kbps)
Peripheral Ports
1 x RS232, 1 x Line, 1x mini USB (OTG),
1 x power charge
Security
PCI PTS 3.x approved
DUKPT, Master / Session, DES, 3DES
ANSI / ISO9564 format 0, 1, 3
PIN ciphered key algorithm
ANSI X9.9 / X9.19 MAC algorithm
Battery
Li-ion battery, 1800mAh, 7.4V
Environmental
0°C to 50°C (32°F to 122°F) operating temperature
-20°C to 70° C (-4°F to 158°F) storage temperature
10% to 93% relative humidity, non-condensing
Voltage
Input: 100~240VAC, 50Hz / 60Hz, 1.0A
Output: 9.5VDC, 4A
Physical
Length: 199mm
Width: 87mm
Height: 61.5mm
Weight
504g
Accessories (optional)
Leather Casing, Charging Dock,
Car Jack Charger