First Data FD410DW
First Data FD410DW
(GPRS Wireless w/EMV)
---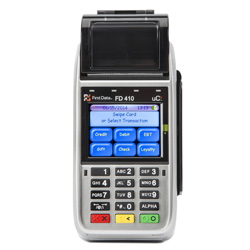 ---
The FD410 is a GPRS wireless EMV enabled terminal for merchants processing with First Data. The FD410 is a great terminal for mobile businesses, food trailers, and mobile services that need to accept payments away from a central location, but want something more robust and dedicated than a smart phone attached swiper. The FD410 replaces previous wireless FD models including the FD400 CDMA and FD400 GPRS.
The FD410 terminal from First Data is a wireless, handheld point-of-sale device that merchants can easily use remotely to provide customers with the convenience of a full range of payment options. You'll have access to wireless downloads wherever your business takes you. And with the touch-screen interface, it is an easy product to train on and use. This terminal enables you to receive the full range of solutions for payment processing, including credit, debit, gift cards, personal paper checks and EBT, all from a single provider. Plus, with the "store-and-forward" capability, you can ensure card-present rates when there is no signal at the time of the transaction.
Industries Served
Home Services/Delivery
Event Marketing/Trade Shows
Charity Functions/Events
Sporting Events
Limos/Taxi Services
Restaurant Delivery
Mobile Retail
Supplies and Accessories
Similar Products

Dejavoo V9 Wireless
From: $323.98

Pax S90 Wireless GPRS
From: $349.98

Verifone VX675
From: $411.98
Product Specifications:
Compact design with sleek titanium look
Full First Data processing product set
Multi-application platform for all payment and value-added services
PCI 3.1 approved
Hardware/software support for 3G technologies, which provide more connection options
"Store-and-forward" capability to ensure card-present rates when there is no signal
Also available is an optional car charger that can be used when on the go.