Verifone Tranz 380
Verifone Tranz 380
(Refurbished)
---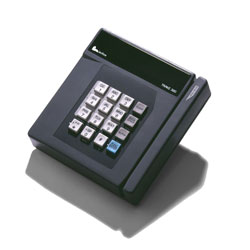 $99.98
No account or service required!
Availability:
Out of Stock. Permanent or unknown future availability!
Condition:
Factory Refurbished
Part Number(s): t380-r
Please call us as (800) 532.4966 to check availability. We often have refurbished terminals in stock. However, due to the difficulty in keeping these in stock, please contact us for availability.
---
Manufacturer Refurbished, Tranz 380 Processor, can later add printer and or PINpad. The Verifone Tranz 380 Offers Processing Flexibility in a compact POS terminal. The Verifone Tranz 380 has a large memory capacity making it the perfect choice for any business type. The Verifone Tranz 380 is perfect for Retail environments as well as mail or telephone order businesses. Does not include an attached printer, but an external printer and/or PINpad can later be added to issue receipts and accept debit cards.
Similar Products

Verifone Tranz 330
From: $199.98

Verifone Tranz 380
From: $299.98

Verifone Tranz 380x2
From: $349.98