Verifone Tranz 380x2
Verifone Tranz 380x2
---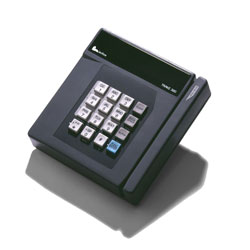 $349.98
No account or service required!
Availability:
Out of Stock. Permanent or unknown future availability!
Part Number(s): t3802
---
Tranz 380x2 Processor, can later add printer and or PINpad. The Verifone Tranz 380x2 is a single transaction terminal that does the work of two. Independent memory segments allow two different applications (or merchant accounts) on a single terminal. The Verifone 380x2 is basically two Tranz 380's in one package. Simply hit the function key twice and you are now using a separate application or merchant account. Perfect for merchants who run two businesses out of one location and want to have separate deposit accounts. Also great for merchants who do both high volumes of mail order and retail transactions and want to set up separate merchant accounts to take advantage of lower rates.
Similar Products

Verifone Tranz 330
From: $199.98

Verifone Tranz 380
From: $299.98

Verifone Tranz 380
From: $99.98