Way Systems way5000
Way Systems way5000
(w/ Printer)
---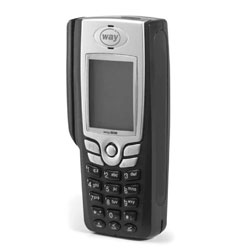 $473.98
No account or service required!
Availability:
Out of Stock. Permanent or unknown future availability!
Part Number(s): 25000-01
---
The way5000 is the newest wireless credit card terminal from Way Systems.
It has been built from the ground up to be the best featured terminal in it's class. It fully supports credit card acceptance, PCI-PIN debit, and signature debit. Optionally, it can support AVS, and CVV / CVC verification as well as tips, toll, cash receipts, and invoice number printing. It has the added capability to run multiples applications making it the first cellular phone terminal to support gift cards and check services. Unlike previous Way models, the way5000 does not require login/out to use the terminal. The way5000 operates on AT&T's GPRS network.
The way5000 comes standard with a USB port and features easy to use joystick navigation.
Similar Products

Way Systems MTT 1581
From: $498.98
Way Systems way5000 Guides and Downloads
(These open in a new window).