Manual Imprinter
Manual Imprinter
---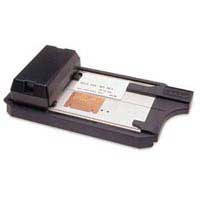 ---
Due to recent quality issues from the manufacturer, we strongly suggest the Bartizan 4000 or Bartizan 4850 Imprinter as a replacement for the 3785 imprinter.
AIC 3785+ Flatbed Manual Imprinter. Don't forget to order manual imprinter plates if you don't have any or need a replacement.
The manual imprinter was one of the first methods of accepting credit cards. It is still a great product to keep on hand in case of terminal or connectivity problems. Manual imprinters can be used with an ARU merchant account to key transactions over the phone, and can be used as a crude mobile payment acceptance method. A manual imprinter is low cost and should be in the toolbox of every merchant.