Hypercom ICE 5500 Plus
Hypercom ICE 5500 Plus
---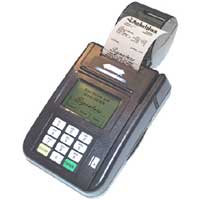 $475.98
No account or service required!
Availability:
Out of Stock. Permanent or unknown future availability!
Part Number(s):
---
ICE 5500 Plus Features:
Simple, fast and efficient:
Eliminates paper jams with revolutionary SureLoad™ printer
Prints receipts in half the time of previous generation printers
Supports longer paper rolls for fewer paper changes
Reads driver's licenses for positive ID with triple track reader
Enables 2-way messaging with embedded Web browser
Innovative New Printer
The ICE™ 5500Plus is the first payment terminal to integrate Hypercom's advanced and innovative SureLoad™ printer technology. SureLoad operates at twice the speed of previous models, virtually launching receipts from the printer so customers and cashiers are not waiting for the printer to complete.
The Clam That Won't Jam
SureLoad ensures jam-free operation, providing merchants with 100% reliability and eliminating the need for costly, time-consuming reprints of receipts. The semi-transparent paper holder alerts cashiers to low paper conditions prior to running out of paper in the middle of transactions. And with the ease of loading, they are more likely not to wait until the last minute to replace paper.
Simple and Advanced
The ICE 5500Plus supports smart cards, signature and receipt capture, customized logos and promotional messages printed on receipts, graphical advertising on the screen, secure connection to Web and server-based applications and to customer loyalty programs. This new terminal is compatible with software applications developed for previous ICE models. And the 9600 bps Hypercom FastPOS® modem delivers exceptional dial-up capabilities.
Ice 5500Plus 5500 Plus Specs
Card option

| | |
| --- | --- |
| IC card interface | ISO 7816, 1, 2, 3, 4; T=0; T=1; EMV-compliant |
| SIMMLOCK | 4 SAMs optional |

Card reader

| | |
| --- | --- |
| Magnetic stripe | Track 1, 2 standard; Track 2, 3 or 1, 2, 3 optional |
| Reliability | 400,000 reads (calculated) |

Comms

| | |
| --- | --- |
| Modem | Hypercom FastPOS' 9600 bps, 2400/1200/300 bps; synchronous (SDLC) & asynchronous |
| Hypercom LAN | RS-485, 56K (optional) |
| Peripheral | MiniDIN 9 with RS-232 |
| Ethernet | 10Base-T, IP or PPP (optional) |
| PIN pad port | 4-wire, RS-485 |
| Power out | 12V power with a max of 500mA |

Display

| | |
| --- | --- |
| LCD | 160 x 80 pixel graphics |
| Backlight | 50,000 hours (calculated) |

Environment

| | |
| --- | --- |
| Temperature | 0-45 C/32-115 F |
| ESD | 12,000 volts |
| Humidity | Max 85%, non-condensing |

Footprint

| | |
| --- | --- |
| Dimensions | 10 in x 5.18 in x 2.5 in/22.1 cm x 18.8 cm x 5.6 cm |

Keypad

| | |
| --- | --- |
| Elastomeric | 12 keys, water-resistant |
| Reliability | 500,000 keystrokes (calculated) |

Memory

| | |
| --- | --- |
| RAM | 1.0 MB (standard), 1.5 MB (optional) 4.0 MB (optional) |
| RAM backup | 5-year battery |

PIN Encryption

| | |
| --- | --- |
| DES | Visa PED approved; PIN ANSI 9.8, MAC ANSI 9.9, PART 1-ANSI 9.24, 3DES |
| Key management | 12 master/session keys or DUKPT |

Power

| | |
| --- | --- |
| AC | 85-250 V AC, 50/60 Hz |
| DC | 24 V, 0.8A |

Printer

SureLoad
"Drop-in" loading, thermal technology,
384 dots per line
Paper roll
57 mm wide, 80 mm diameter

Product lifecycle

| | |
| --- | --- |
| Reliability | 80,000 hours (calculated) |

Security

| | |
| --- | --- |
| Physical | Intrusion detector & secure CPU |

Weight

1.5 lbs/0.68 kg approximate weight