Hypercom T7P Thermal
Hypercom T7P Thermal
(Refurbished)
---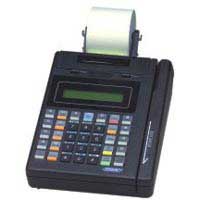 $135.98
No account or service required!
Availability:
Out of Stock. Permanent or unknown future availability!
Condition:
Factory Refurbished
Part Number(s): ht7p
Please call us as (800) 532.4966 to check availability. We often have refurbished terminals in stock. However, due to the difficulty in keeping these in stock, please contact us for availability.
---
Hypercom T7P Processor and Printer Combination. The Hypercom T7P is an industry standard for Credit Card Processing. One of the most popular terminals of all time, it accepts all forms of Credit Cards and can be set up for debit, EBT, Check Services, Gift Cards and other forms of electronic payment. The Hypercom T7P is an excellent all in one payment solution. The T7P is being replaced by the new Hypercom T7 Plus, but the T7P is still a widely available popular credit card machine.
Ideal for Upgrades
The Hypercom T7P is designed for upgrading authorization-only equipment and for merchants moving to data capture and debit applications. The T7P features an integrated impact or thermal printer.
Reads All Card Formats
The Hypercom T7P can read all types of Credit, Debit, Check, and Charge cards and an external Pinpad can be attached for supporting cardholder entry of PIN numbers. Dedicated function keys allow one-step operation of everyday processes.
Additional Benefits
Price/Performance benefits of the Hypercom T7P include saving on user training, reduced telephone line costs and shorter processing and settlement times. The T7P also accommodates new software applications demanded by the marketplace which can be remotely downloaded from a sophisticated Terminal Management System.
Detailed Description:
Hypercom T7P Specifications:
Display:
LCD: 2 lines x 20 characters (standard);
backlight reliable to 25,000 hours(half-life calculated).
Keypad:
Silicon Rubber; 35 Key, reliable to 35,000 keystrokes (calculated).
Card Reader:
Magnetic stripe: Tracks 1, 2 (standard), Track 3 (optional); reliable to 400,000 reads (calculated).
Chips/Smart Card Interface: ISO 7816; EMV-certified.
Communications:
Modem: 2400 or 1200 bps; synchronous& asynchronous; 9600bps optional.
PIN pad port: 2-wire, 4-wire; RS-422.
Peripheral port: Compatible with S7C, S7SC, S8, P7E, ICE, HFT 105.
Printer:
Thermal;
Paper Width: 2.26in (57.5 mm).
Paper Type: single ply thermal (thermal); reliable to 5 million lines (thermal, calculated).
Memory:
RAM: 512 KB (standard), 1.0 MB (optional).
RAM backup: 5-year battery.
EPROM: 32 KB.
Power:
AC: 100-240 V, 50/60 Hz.
DC: 24 V, 1A.
Footprint:
6.25 in x 11.5 in x 4.5 in (15.88 cm x 29.21 cm x 11.43 cm).
Weight:
1.98 lbs/0.74 kg approximate.
Environment:
Temperature: 0-45°C/32-110°F.
Humidity: max 85%, non-condensing.
ESD: 12,000 volts.
Reliability:
100,000 hours (MTBF calculated), excluding printer.