Verifone VX520 EMV
Verifone VX520 EMV
(Dial w/ Smart Card, EMV)
---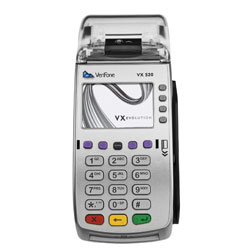 $185.98
No account or service required!
Availability:
Out of Stock. Permanent or unknown future availability!
Part Number(s): M252-103-03-NAA-2
---
Check for compatibility! - The VX520 comes in several versions. This is the dial only version of the VX520. Dial up connectivity is a slower protocol and may not work properly with EMV even though this terminal is EMV capable. We strongly suggest ordering an Ethernet capable VX520. We recommend you check with your processor to ensure this terminal is compatible. The models we offer are all non-locked, non-proprietary versions, while Elavon and some other processors may require proprietary versions of the VX520 to work on their platform.
The VX520 is the newest generation countertop terminal from VeriFone. It has a variety of processing configurations including dial, Ethernet, GPRS wireless and comes in NFC and Smart Card (EMV) compatible configurations. The VX520 is a compact and rugged terminal and depending on the configuration should meet the needs of current and future processing protocols for many years to come.
Product Specifications:
Processor
400 MHz ARM11 32-bit RISC processor
Memory
160 MB (128 MB of Flash, 32 MB of SDRAM) standard, designed to support up to 500 MB
Display
128x64 pixel graphical (white backlit) LCD with backlighting; supports up to 8 lines x 21 characters
Magnetic Card Reader
Triple track (tracks 1, 2, 3), high coercivity, bi-directional
Primary Smart Card
ISO 7816, 1.8V, 3V, 5V; synchronous and asynchronous cards; EMV Level 1 and 2 Type approved
SAM Card Reader (optional)
3 Security Access Modules (SAMs)
Peripheral Ports
One Ethernet (10/100BaseT), one telco, one RS-232 port, one USB 2.0 Host port and one USB Client port supporting peripherals including PIN pads and contactless devices
Printer
Integrated thermal with graphics capabilities, 18 lines per second, 24 or 32 columns; standard roll paper 58mm (2.25 in.) x 25M (82 ft.), single ply
Modem
Standard 56 kbps modem Bell 103/212a, CCITT V.21/V.22/V.22bis/V.32/V.32bis (300/1200/2400/9600/14400/33.6/56 and HC FastConnect for 1200bps)
Radio (optional)
GPRS Quad band radio | On 850/900/1800/1900 MHz
Protocols
Application selects between asynchronous protocols (Visa 1, Visa 2 and others) and synchronous protocols (including ISO 8583/SDLC); Communication protocol is V.92/V.34/V.32 BIS/V.32
Security
SSL v3.0, 3DES encryption, Master/Session and DUKPT key management | PCI PED 2.0 comes standard; PCI PTS 3.X is standard for Canada and optional for US | VeriShield file authentication
Physical
Length: 203mm (8.0in.); Width: 87mm (3.4in.); Height: 76mm (3.0in.); Weight: 500g
Environmental
0° to 40° C (32° to 104° F) operating temperature; 5% to 90% relative humidity, non-condensing; -20° to 60° C (-4° to 140° F) storage temperature
Voltage
AC input 100 - 240 VAC, 50/60 Hz; DC output 8V 2.25A
Contactless Applications
MasterCard PayPass M/Chip | MasterCard PayPass MagStripe | Visa payWave MSD | Visa payWave qVSDC | Discover Zip | American Express ExpressPay | Pass-through access to ISO 14443-4 and MiFare card, for direct host terminal based application access | Secure SoftSAM | Hardware SAM optional
NFC Applications
Support for ISO 18092