Verifone VX 610
Verifone VX 610
(GPRS)
---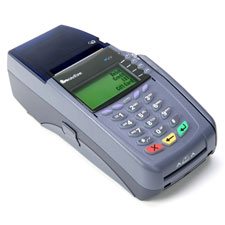 $695.98
No account or service required!
Availability:
Out of Stock. Permanent or unknown future availability!
Part Number(s): M256-533-36-USA
---
The Verifone VX 610 is a highly advanced wireless terminal from Verifone. It has an easy to use ATM style interface, and it comes in a compact portable design made to go anywhere. The VX 610 is offered in three versions, cellular GPRS, cellular CDMA, and wireless 802.11b (WiFi).
The VX 610 comes standard with a drop-in thermal printer, magnetic card reader, smart card reader, and an internal PINpad for PIN debit transactions. A lithium ion battery can be purchased for all day use. High memory is included for businesses who use advanced processing applications.
This specific VX 610 operates on the GPRS network. If you need the CDMA version, please go to the VX 610 CDMA.
Supplies and Accessories
Similar Products

Verifone Nurit 8020
From: $375.98

Verifone VX 610
From: $675.98

Verifone VX670
From: $656.98
Verifone VX 610 Guides and Downloads
(These open in a new window).
Product Specifications:
Processor
32-bit microprocessor
Memory
6 MB (4 MB of Flash,2 MB of SRAM)
Display
128 x 64 pixel graphical LCD with back-lighting; supports 8 lines x 21characters
Magnetic Card Reader
Triple track (tracks 1, 2, 3), high coercivity, bi-directional
Primary Smart Card
ISO 7816, 1.8V, 3V, 5V or synchronous and asynchronous cards;
EMV Level 1 and 2 Type approved
SAM Card Reader
1 or 3 Security Access Modules (SAMs)
Keypad
3 x 4 numeric keypad, plus 8soft-function keys and 4screen-addressable keys
Peripheral Ports
One RS-232 port and 1 telco port support peripherals including check readers
Printer
Integrated thermal with graphics capabilities, 18 lines per second, 24 or32 columns; standard counter-top paper roll 58 mm (2.25 in.) x 25M, single ply
Modem
Standard 14.4kbps modem (Bell103/212a, CCITT V.21/V.22/V.22bis,300/1200/2400/14.4k bps, synchronous and asynchronous)
Wireless Modem
Supports Wide Area Wireless GSM\GPRS on 900/1800 MHz or850/1900 MHz;
CDMA2000 1X on800/1900, and Local Area Wireless Wi-Fi 802.11b
Protocols
Application selects between asynchronous protocols (Visa 1,Visa 2, etc) and synchronous protocols (including ISO 8583/SDLC);
IP enabled with optional TCP\IP protocol stack
Security
PCI PED approved;
3DES encryption, Master/Session and DUKPT key management;
VeriShield file authentication; SSL API for secured IP transactions
Physical
Length: 209mm (8in.)
Width: 102 mm (4in.)
Height:70mm (2.8in.)
Weight: Device/708g (1.5lbs)
Environmental
0 to 40 C (32 to 104 F) operating temperature;
5% to 90% relative humidity, non-condensing
Voltage
AC input 100 - 240 VAC, 50/60 Hz;
DC Output 8.6 - 9.4 VDC, 4.0 Amp