Verifone VX675
Verifone VX675
(3G Wireless, EMV, NFC)
---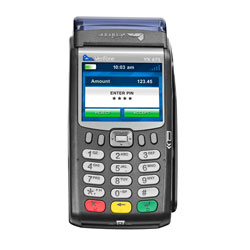 $411.98

& Ships Free!
No account or service required!
Availability:
Out of Stock. Permanent or unknown future availability!
Part Number(s):
For a limited time, get this terminal 1/2 off when you setup a merchant account.
Apply or get more information today »
---
The VX675 is the newest wireless terminal from Verifone. It is extremely compact and offers the features of standard full size terminals, as well as being EMV ready and NFC / contactless compatible. We expect the VX675 to become a top wireless terminal. Due to this being a very new model, please check with your processor to ensure compatibility.
Detailed Description:
NEW DESIGN, NEW OPPORTUNITIES
Accepts payment wherever it's required
anywhere, any time
The smallest, full-function, portable device on the market, excellent for restaurant, hospitality, delivery or transportation operations
Vibrant color screen with integrated NFC or contactless option and printer for fast and convenient payment
Securely and efficiently accepts credit and PIN-based debit cards with a vertical mag-stripe reader
Offers new opportunities in markets where speed and convenience are important
Compatible with the widest range of global applications, including American Express ExpressPay, Discover Network Zip, MasterCard PayPass, Visa payWave, MiFare and many local specifications
Backward compatibility minimizes training and speeds integration into new markets
VX 675 enables long-range 3G HSPA+ wireless payment for retailers on the go
VeriFone's unsurpassed quality and reliability ensure the VX 675 is a valuable investment going forward
BIG ON SECURITY
Tamper-resistant construction
PCI PTS 3.0 approved for PIN-based transactions
EMV Level 1 and 2 Type approved, offering the best security available
SSL protocols and VeriShield file authentication help prevent fraud
VeriShield is VeriFone's premier security suite with three core solutions:

VeriShield Remote Key: injects encryption keys while on the go
VeriShield Retain: prevents unauthorized downloading while easily accommodating authorized application
VeriShield Total Protect: supports end-to-end security with tokenization
Product Specifications:
Processor
400 MHz ARM11 32-bit/500 MIPS processor
Memory
192 MB (128 MB of Flash, 64 MB of SDRAM) standard, designed to support up to 500 MB
Display
2.8", 320x240 pixel color TFT (QVGA)
Mag-stripe Reader
Triple track (tracks 1, 2, 3), high coercivity, bi-directional
Primary Smart Card
ISO 7816, 1.8V, 3V, 5V; synchronous and asynchronous cards; EMV Approved
SAM Card Reader
2 Security Access Modules (SAMs)
Battery
Li-Ion 3.6V / 2200mAh (8Wh)
Keypad
3 x 4 numeric keypad, plus 4, screen-addressable keys and a navigation key
Peripheral Ports
Single USB connector and Integrated Charging
Printer
Integrated thermal with graphics capabilities, 18 lines per second, 22, 32, or 42 columns; 40mm paper roll
Wireless Modem
3G (HSPA+)
Protocols
Application selects between asynchronous protocols (Visa 1, Visa 2 and others) and synchronous protocols (including ISO 8583/SDLC)
Security
3DES encryption, Master/Session and DUKPT key management;
VeriShield file authentication; PCI PTS 3.0 approved
Physical
40mm roll: Length: 163mm; Max Width: of 78mm; Height: 52mm; Weight: Terminal 336g (0.741 lbs)
Environmental
0° to 50° C (32° to 122° F) operating temperature; 5% to 90% relative humidity, non-condensing
Storage temperature: -20° to 60° C / 5% to 90% RH; non-condensing
Voltage
AC input 100-240 VAC, 50/60 Hz; DC output 5 VDC, 1 Amp
Contactless Applications
MasterCard PayPass M/Chip | MasterCard PayPass MagStripe | Visa payWave MSD | Visa payWave qVSDC | Discover Zip | American Express ExpressPay | Pass-through access to ISO 14443-4 and MiFare card, for direct host terminal based application access