Hypercom S8 Pinpad
Hypercom S8 Pinpad
---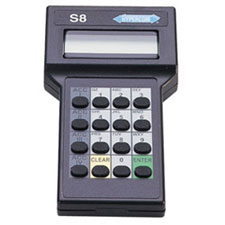 $119.98
No account or service required!
Availability:
Out of Stock. Permanent or unknown future availability!
Part Number(s): hpc-s8
---
Item Notice:
The Hypercom S8 Pinpad has been discontinued, and is no longer available. The Equinox Hypercom S9 Pinpad is available as a replacement for $118.98.
Hypercom S8 Pinpad, compatible with most processing machines. The Hypercom ? S8 PIN Pad delivers cost-effective, full-feature debit transaction support and connects easily with all Hypercom terminals, electronic cash registers (ECRs) or third-party POS systems using a Hypercom adapter. Multiple S8 PIN Pads can be connected via LAN with a Hypercom LAN controller or Network Access Controller (NAC). The S8 PIN Pad also has a wide range of hardware and software features that ensure dependable encryption and PIN security. Whether used for stand-alone terminal support, integrated ECR support or stand-beside LAN terminal support, the S8 PIN Pad by Hypercom is fully reliable and highly secure for all debit transactions.